'Bobby Kennedy for President': 3 Things You'll Learn From the Netflix Docuseries
Two thousand reels of film. One hundred sources. One incredible man.
Director Dawn Porter left no stone unturned while researching this comprehensive four-hour documentary — Bobby Kennedy for President — on JFK's younger brother Bobby, the U.S. attorney general and senator who was assassinated while running for president in 1968.
To mark the 50th anniversary of his death, Porter reveals what viewers will learn about the historic figure from her newly released series.
1. He evolved over time.
In his younger years, Kennedy was a "ruthless, old-style politician" who once had Martin Luther King Jr.'s phones tapped, says Porter. But significant events — such as a 1967 trip to the Mississippi Delta, where he saw extreme poverty up close — changed him. "He used his passion and energy for civil rights," she says. "It wasn't just a talking point."
2. He was an inspiring leader.
The staff members who surrounded him weren't just there to collect a check. "As one of his team said, 'He didn't have to demand loyalty from us; we really felt he was doing something good for the country,'" Porter says.
3. He was a devoted dad and husband.
Kennedy had a reputation as ambitious, but according to Porter, footage of Bobby, his wife, Ethel, and some of their 11 children "shows how much joy his family brought him."
Bobby Kennedy for President, Streaming now, Netflix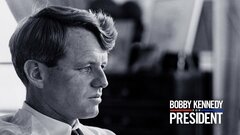 Powered by