Netflix's '13 Reasons Why' Gets a Season 2 Premiere Date & First Teaser (VIDEO)
It's official: 13 Reasons Why is coming back — and soon!
Netflix released the Season 2 premiere date on Monday, teasing the 13 new episodes with a revealing announcement video.
In the first season, the story of Hannah Baker's (Katherine Langford) life and events leading up to her suicide entranced viewers. Each new tape that Hannah left behind for her classmates — including Dylan Minnette's Clay — was another revelation in the season-long mystery and fans couldn't get enough.
Now, as the truth about Hannah's suicide bubbles to the surface, those who harmed her, including rapist and Liberty High sports darling Bryce (Justin Prentice), could be brought to justice. But there's someone who will do anything to stop that from happening…
Debuting Friday, May 18, Season 2 will feature many familiar characters — some which you can see in the below teaser clip being surrounded by photos with threatening messages. And once again, justice for Hannah is put on hold.
In the logline for the season released by Netflix, the summary reads:
"Season 2 picks up in the aftermath of Hannah's death and the start of our characters' complicated journeys toward healing and recovery. Liberty High prepares to go on trial, but someone will stop at nothing to keep the truth surrounding Hannah's death concealed. A series of ominous photos lead Clay and his classmates to uncover a sickening secret and a conspiracy to cover it up."
Consider us intrigued! And as the show continues to cover heavy topics like suicide, rape, and more, the actors will come together for a Discussion Series, talking about the events covered in episodes. Meanwhile, more resources will be available via 13ReasonsWhy.info as well as an updated Discussion Guide.
Where will you be when the mystery continues this May?
13 Reasons Why, Season 2, Friday, May 18, Netflix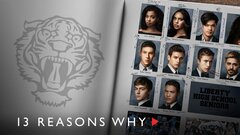 Powered by