Tim Kring on the Future of 'Heroes': "There Is More To Come"
Tim Kring isn't ready to throw in the Heroes towel.
The series creator tells TV Insider that although Heroes Reborn won't be back after this season, he still has eyes on revisiting the franchise again, with other new stories.
"I know word has been circulating that Heroes Reborn has been 'canceled,'" Kring said in a statement sent to TV Insider. "But I want to assure you that tonight's finale is exactly the ending we've had planned from the very beginning. I've also stated that if there was going to be more story, it would not be part of Heroes Reborn, but rather some future volume with a brand new story."
MORE NEWS: A Who's Who of DC's Legends of Tomorrow
At the Television Critics Association press tour earlier this month, NBC Entertainment chairman Bob Greenblatt told reporters that ending Heroes Reborn after one cycle "was always the plan unless (creator) Tim (Kring) woke up one day and said 'I have another chapter to tell'… As far as I know there are no more incarnations of Heroes coming."
But in a new statement, Greenblatt is now also keeping the possibility open of eventually visiting the show again.
"The door remains open for future installments of this beloved series from creator/executive producer Tim Kring," Greenblatt says in a statement supplied to TV Insider.
The new comments are timed to tonight's Heroes Reborn finale. Kring says that Heroes Reborn ends with enough loose ends that could turn into another series.
"I think you will see that tonight's final episode clearly leaves the door open for us to tell more stories within the Heroes saga," he says.
Here's Tim Kring's full statement:
"I want to sincerely thank all of our fantastic Heroes Reborn fans for watching our latest volume. Our entire team here couldn't be more thrilled that you are going to finally get to see the series finale tonight — the biggest episode ever in the Heroes saga to date. I've said from the beginning that Heroes Reborn would be 13 episodes long, with a beginning, middle and end. I know word has been circulating that Heroes Reborn has been 'canceled,' but I want to assure you that tonight's finale is exactly the ending we've had planned from the very beginning. I've also stated that if there was going to be more story, it would not be part of Heroes Reborn, but rather some future volume with a brand new story. Let me just say clearly for the record — the 'Heroes' universe is designed to be large and multi-platformed. 'Heroes Reborn' alone now includes six novellas, a series of comic books from Titan Publishing, and our two new games GEMINI – Heroes Reborn (on Xbox now, releasing on all other console and PC platforms next week) and Heroes Reborn ENIGMA (available on mobile and tablet). I think you will see that tonight's final episode clearly leaves the door open for us to tell more stories within the Heroes saga. We would be honored if you came along for that ride with us when we do. Until then I want to offer my heartfelt gratitude to the many fans of Heroes and Heroes Reborn for your loyal and unwavering support. Stay tuned. There is more to come."
And Bob Greenblatt's:
"All of us at NBC are very much looking forward to tonight's exciting finale of Heroes Reborn. The show this fall was always envisioned as a 13-episode limited series, which comes to an exciting conclusion tonight, and we're thrilled that nearly 7 million L+7 viewers have been glued to this saga each week this season. And the door remains open for future installments of this beloved series from creator/executive producer Tim Kring."
MORE NEWS: Arrow Unveils a First Look at Vixen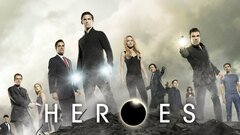 Heroes
where to stream
Powered by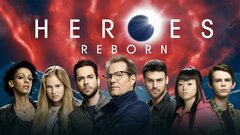 Powered by