'Downton's Mr. Bates as Crime Boss? See Brendan Coyle as Villainous Baddie in 'Spotless' Finale (VIDEO)
When we last saw Spotless' Bastière brothers, they were drowning their sorrows with some brewskis. During their bar talk, Jean (Marc-André Grondin) decided that nemesis Victor Clay (Liam Garrigan) was too big a threat to his family and needed to be taken out. And if hisplan works out, it'll be Victor's older brother, crime boss Nelson Clay (Brendan Coyle), who'll do the deed.
It's a risky move, considering Nelson's been one step ahead of Jean and Martin (Denis Ménochet) throughout the first season of the crime clean-up drama on Esquire Network. "They have to create a situation where Nelson is bound to act by his own ethics, his own principles—where a failure to act would be a betrayal," says executive producer Ed McCardie (Shameless). "It's a gamble for the brothers because Nelson doesn't behave in predictable ways."
That's pretty clear in this exclusive clip of the confrontation from the finale—in which Coyle's ruthless character is a far cry from the more subdued British valet he plays on Downton Abbey:
[jwplatform wYEomsXI]
But are the brothers really fooling the infamous mobster? "There's a suggestion that Jean has out-maneuvered Nelson in the season finale," McCardie says. "I'm not sure that's true."
And to think the dangerous man was on the cusp of retiring for good. "The one thing Nelson will never escape is Nelson himself," he says. "And being Nelson is a tough gig, wherever that may be. Part of me thinks I can see him at 85, sitting in a chair outside a farm house in Sicily, watching over arid land and waiting for assassins."
No word yet on whether the series will get a second season.
Spotless season finale airs on Esquire, Saturday, Jan. 16 at 10/9c.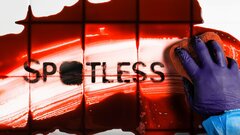 Powered by