'The Walking Dead' Drops Midseason Premiere Trailer and Reveals Return Date (VIDEO)
[Spoiler Alert: This post contains plot details from the mid-season finale of The Walking Dead. If you are not caught up, proceed with caution.]
If you are still in shock after Sunday night's controversial midseason finale of The Walking Dead, you'll sadly have to wait a couple of months to get closure on Carl Grimes' (Chandler Riggs) story. The popular series will not return until Sunday, February 25th, 2018.
To hold you over, AMC has released an action-packed trailer for the second half of the season. As you can see, the war will continue to rage between Rick's crew and Negan and the Saviors.
Check out the trailer below and let us know in the comments if you'll be watching when the show returns early next year.
The Walking Dead returns Sunday, Feb. 25 at 9/8c on AMC.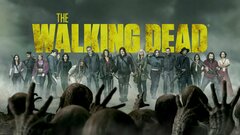 Powered by