Emily Bett Rickards and Melissa Benoist Address Harassment Allegations Following EP's Suspension
Late last Friday, Arrow and Supergirl producer Andrew Kreisberg was suspended by Warner Bros. Television following reports of alleged sexual harassment. More than 19 women and four men have stepped forward to accuse Kreisberg of acting inappropriately while on set in Vancouver, Canada. Now, stars of two of Kresiberg's shows are speaking out about the allegations.
"I am a woman who leads a show that supports equality and feminism, empowerment, and fighting for what is right," Supergirl star Melissa Benoist (Kara Danvers/Supergirl) tweeted Sunday. "I have always tried to conduct myself this way personally, as well. Sadly, the show and my career are a part of an industry that doesn't always mirror these sentiments."
— Melissa Benoist (@MelissaBenoist) November 13, 2017
Arrow's Emily Bett Rickards (Felicity Smoak) also posted on message of solidarity on Twitter. "To the men who committed harassment, who perpetuated rape culture, who turn a 'blind eye', and complain about 'reverse sexism': you are weak and complicit."
— Emily Bett Rickards (@EmilyBett) November 13, 2017
Maisie Richardson-Sellers, who plays Amaya Jiwe/Vixen on Legends of Tomorrow, which Kriesburg also produces, released a statement of her own, in which she slams enablers of sexual harassment.
https://t.co/43IOyrfZWF pic.twitter.com/Oi8hkmw8aU

— Maisie R-Sellers (@maisie_rs) November 13, 2017
Allegations against Kreisberg are currently being investigated by the studio.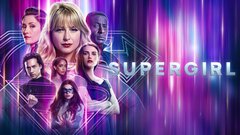 Powered by