Rita Moreno on Why the 'Kennedy Center Honors' 'Is Really the Pinnacle' of All Awards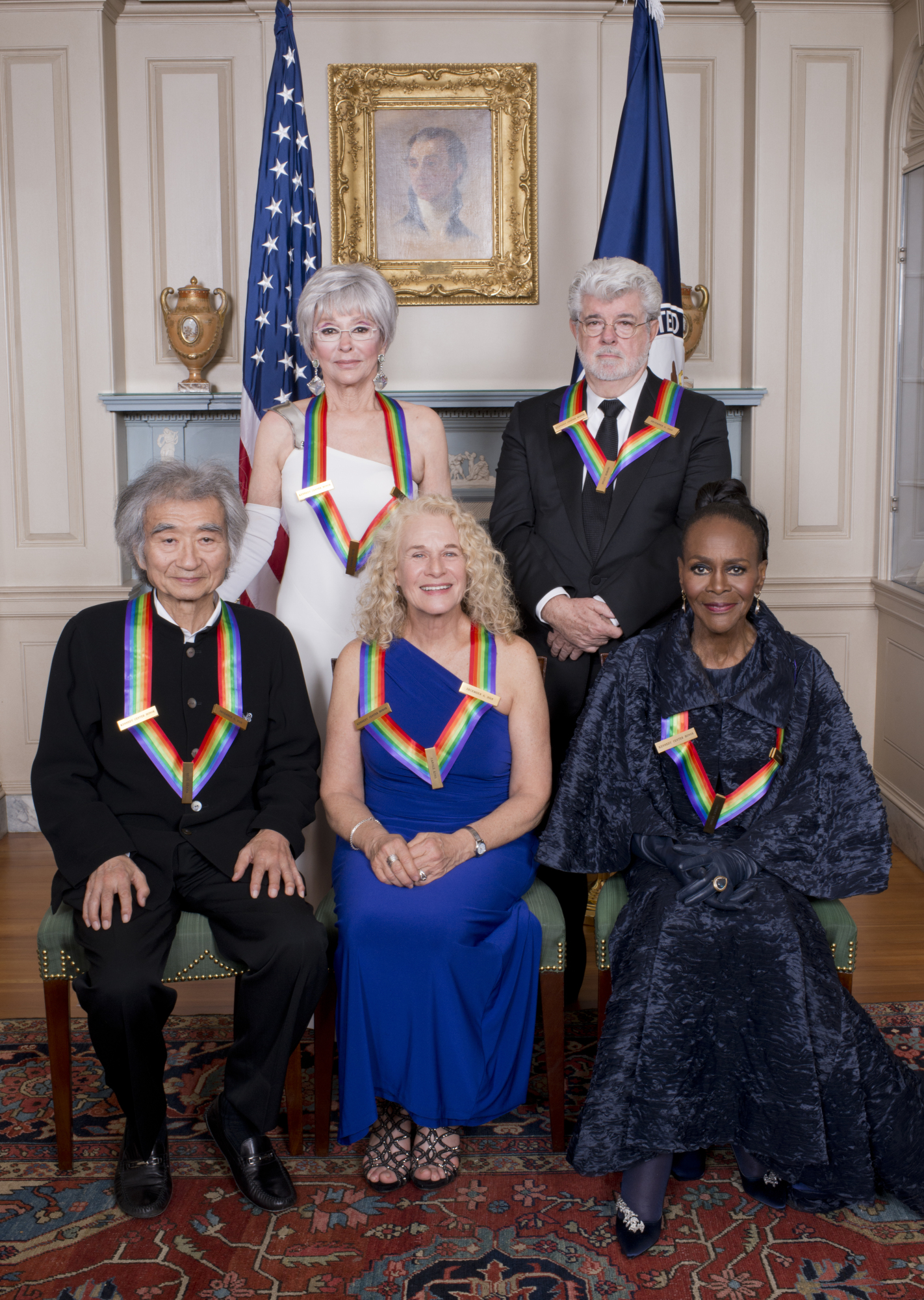 It's been a momentous year for 84-year-old Rita Moreno, one of the five legendary figures recognized at this year's Stephen Colbert-hosted Kennedy Center Honors. (The West Side Story and The Electric Company vet shares the evening with fellow actress Cicely Tyson, Japanese conductor Seiji Ozawa, songwriter Carole King and Star Wars creator George Lucas.)
In addition to this ceremony, Moreno has filmed upcoming appearances for Netflix's Grace and Frankie and The CW's Jane the Virgin, contributed voice work on the animated Sprout series Nina's World and recently released her first all-Spanish album, Una Vez Mas.
RELATED: Rita Moreno on Her Return to Jane the Virgin
"My life is filled with magic moments," the versatile EGOT recipient gushes, "but this award is really the pinnacle of all of them. It's about acknowledging not only a life's work but also the heartbreak—all of the times you were knocked down and had to get up and you made the choice to keep moving and go forward."
Moreno relishes the notion of showcasing the effort she put into her iconic career. "Often people will see the result of all the pain and hardship and very hard work, and it's marvelous to be the recipient of something that recognizes that you are definitely the sum of all those struggles," she says. "It's such an American—in the most emotional, thematic sense—recognition."
With the acknowledgment coming at this point in Moreno's career, "everything takes on enormous and profound meaning," she says. "Particularly because some of it comes late in life, and you think, 'Man, who would have thunk?'"
"The first thing I think about, when something astonishing like this happens—there's nothing more astonishing than this—is that my mind immediately goes to Puerto Rico, and I see myself as a tiny little girl, near the beautiful jungle, playing with the tiny little frogs they have [there] that are about the size of your thumb, with a huge bow on my head," she continues. "And I think, 'Wow what happened here? How amazing.' The other thing I think about is, I know so many talented people in my community who deserve recognition and acknowledgment, and don't get any of it. And here I am, the one for the moment. And it's a very humbling experience to think that way."
Moreno is equally thrilled that her fellow honorees for the Honors' 38th year are so diverse. "For a very long time, there were few people of other nationalities being honored for this award," she says. "If you look at the roster of the people this year, it's really wonderful. I'm glad it's come at this time in my life."
Kennedy Center Honors, Tuesday, Dec. 29, 9/8c, CBS