Michael Cera and Haley Joel Osment Lead Strikes as 'Drunk History' Newsies (VIDEO)
Comedian Drew Droege downs half a bottle of tequila before serving as our historical guide through 1890s New York. In this exclusive clip from an upcoming episode of Drunk History, Droege tries to recount the newsboys' strike of 1899.
At the center of the story are famous newsies Morris Cohen (Michael Cera) and the one-eyed Kid Blink (Haley Joel Osment). The two banded together with other newsies and held strikes to force changes in how newspaper moguls Joseph Pulitzer and William Randolph Hearst dictated newspaper prices, which affected how much the newsies were making money.
Watch the video below for the prologue, and find out how the inebriated version of the strike story plays out when the full episode airs tomorrow night.
Drunk History, Tuesdays, 10:30/9:30c, Comedy Central.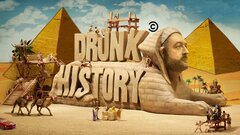 Powered by