First Look: Whoopi Goldberg as a Case Worker on 'Law and Order: SVU' (PHOTO)
Whoopi Goldberg, seen here on the SVU set with series star Mariska Hargitay, is back in New York's Child Services system when she makes her second visit to the Law & Order franchise. In 2006's Criminal Intent episode "To the Bone," Goldberg played a foster mother. This time around, The View moderator plays a social work supervisor accused of orchestrating false reports about the home life of a starving toddler found wandering the streets alone. But no one will confuse the parts. Her role here as overworked Janette Grayson in "Institutional Fail" is a shaded one while her previous character, Chesley Watkins, was pure evil.
RELATED: Expect Everything on SVU to Change by Season's End
"I met Whoopi when she played a pathological foster mother on a Criminal Intent episode I co-wrote," says SVU executive producer Warren Leight. "I was knocked out by her performance." (Pathological is too kind. Goldberg played a Ma Barker type who forced her charges to commit armed robbery and murder!)
"When this part came up," Leight continues, "a career civil servant struggling to survive the impossible caseload demands of the Dept of Child Services—I immediately thought of her. She had the pathos, toughness, world weariness and heart that the part demanded. If she doesn't break your heart when she takes the stand in court, you are made of stone."
This episode airs on Wednesday, Oct. 7 at 9/8c on NBC.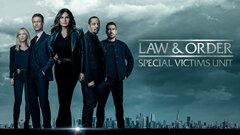 Powered by