What's Worth Watching: 'Gotham' on Fox for Monday, September 21
Gotham, "Damned If You Do" (Monday, Sept. 21, 8/7c, Fox)
If things got any darker in the violently Gothic gloom of Gotham City, you might need to attach a spotlight to your TV to keep watching Gotham. The show's second-season subtitle, Rise of the Villains, is great news for the bad guys—who, as always, are the best reason to watch.
"Surely sometimes the right way is also the ugly way," suggests young Bruce Wayne (David Mamouz) to a tormented Detective Jim Gordon (Ben McKenzie), stating what could be another theme of this impressively nightmarish season. Penguin (the ghoulish Robin Lord Taylor) now considers himself the "King of Gotham," and if he had a mustache he'd twirl it when the overwhelmed Gordon enters his lair to seek a favor that will surely come to haunt him. But over the first few episodes, even Penguin is upstaged by the band of psycho lunatics (including Gordon's ex, Barbara) who escape Arkham Asylum to embark on a stomach-churning crime spree.
"Monsters are coming," promises the maniacs' deep-pocketed shadow leader Theo Galavan (James Frain), and none are creepier than Jerome Valeska (Shameless's spectacular Cameron Monaghan), the Freudian basket case of a neo-Joker with a rictus grin, fiendish cackle and delusions of infamy. When told, "You will be a curse upon Gotham. Children will wake from sleep screaming at the thought of you. Your legacy will be death and madness," he takes it as a compliment. Monaghan's searing performance is no joke, worthy of a guest-actor Emmy nod next year.
And yet Gotham's unending mayhem and graphic carnage can feel grinding and exhausting, not unlike McKenzie's mannered growling as the thuggish copper. I found myself siding with the seductive split personality of deranged future Riddler Edward Nygma (Cory Michael Smith), who goads his other self: "I think that we need a little more fun." Fun would be a welcome relief. Let the Riddler out, dude, and we guarantee a good time. Maybe not for the beleaguered citizens of Gotham, but for the rest of us, the morgue the merrier.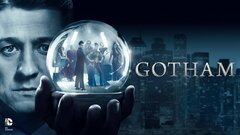 Gotham
where to stream
Powered by