Roush Review: 'Defenders' Is Less Than Marvel-ous
Superheroes are not all created equal, and the same goes for superhero shows.
Marvel's The Defenders is a helpful reminder of this fact, considering the Marvel invasion sweeping TV and the rest of pop culture. As we await new Marvel shows on the fall horizon ranging from the instantly gripping (Fox's The Gifted) to the laughably ridiculous (ABC's The Inhumans), this mashup of Netflix's uneven quartet of Marvel crime fighters takes its own sweet time just to assemble the team: blind Daredevil/Matt Murdock (Charlie Cox), brawny Luke Cage (Mike Colter), brassy Jessica Jones (Krysten Ritter, the standout) and hopelessly bland Iron Fist/Danny Rand (Finn Jones).
Each one a headliner of his or her own imperfect series, they don't all meet up until the end of the third episode, which means several sluggish hours of exposition devoted to brooding over the nature of reluctant heroism, a Marvel specialty.
Like even the better shows (Jessica Jones and Luke Cage), Defenders feels overlong in the first four hours (or eight) made available for review, stringing along a captive audience they must figure will plod on to the next chapter and call the experience a binge. It suffers from a slow-burning self-importance, punctuated by rousing if sporadic action sequences and enlivened by an urban aesthetic grounded in realism.
See Also
Film icon Sigourney Weaver play a woman so powerful it'll take four superheroes to stop her in the new Netflix series
In this universe, it's the women who provide the most dramatic juice. Ritter's Jessica Jones is a live wire of surly moxie, a gumshoe dripping ironic attitude when she barks, "What are you, on Lithium?" the umpteenth time dull Danny announces himself as "the immortal Iron Fist." The elegant Sigourney Weaver plays their antagonist, an ancient enigma named Alexandra, with a chillingly icy gravitas. Her chief weapon is the resurrected warrior/assassin Elektra (Elodie Yung), whose history with Daredevil will no doubt complicate things.
If only these angst-ridden Defenders would stop squabbling among and within themselves, detracting from the danger when they take refuge inside a Chinese restaurant in beleaguered Hell's Kitchen, they might most faster to take down the mystical entity known as The Hand. The stakes: keeping Manhattan from becoming the next Pompeii or Chernobyl.
Will they succeed? We presume so, since each of these characters is expected to retreat back to their own New York neighborhoods and respective series to keep feeding the Marvel machine, for better or worse.
Marvel's The Defenders, Series Premiere, Friday, Aug. 18, Netflix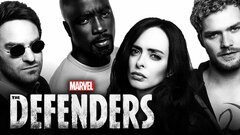 Powered by