'Suits' to Return With Heartbreak (and Haircuts)
The well-heeled lawyers of Suits' Pearson Specter Litt are back, and a lot has changed since we last saw them. Executive assistant extraordinaire Donna (Sarah Rafferty) is now working for perpetually pissy Louis (Rick Hoffman), and her longtime boss (and ex-lover), Harvey (Gabriel Macht), is a hot mess over it, despite what he would like his colleagues to think. "He's going through a real rough patch," says Patrick J. Adams, who plays Harvey's protégé-slash-fake-lawyer Mike Ross. The opener—"by far, one of the best of our season premieres," Adams says—goes deeper than ever to explore exactly how Harvey is handling the loss of his dear Donna.
"The heartbreak is really there," says Adams. "You're getting to see a side of this character who for so long has been a wood plank of a man—there's this whole other world that is going on under his skin."
To balance out the traumatic breakup of the firm's onetime supercouple, the episode also features a refreshingly upbeat development in the oft-rocky romance between Mike and his fiancée, Rachel (Meghan Markle). "They're committed to each other, so there's no doubt anymore, no back-and-forth, no will-they-or-won't-they," Adams explains. "This [season] is them on the road to the next big thing in their lives."
As part of that evolution, our favorite faux legal eagle isn't just growing up; he's also styling his hair! Viewers will notice that the usually shaggy hipster's locks are a bit more polished—and look vaguely familiar. "Yeah, it's early Harvey," Adams confesses with a laugh of his character's slicked-back cut. "Mike is at that stage [where Harvey was] before the pilot: He's on his way to being more put together. He's got swag now. He's not looking behind his back worried he's going to get caught. And I think replicating [the look of] the young Harvey Specter from the first episode was a fun way to tie these two characters together." Now if Mike can only find a way to get Harvey and Donna back together!
Suits, Season premiere Wednesday, June 24, 9/8c, USA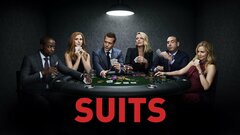 Suits
where to stream
Powered by