Murder in the First Returns With Traumatic School Bus Massacre
Warning: Potential Spoilers
Last season on Murder in the First, San Francisco homicide detectives Hildy Mulligan (Kathleen Robertson) and Terry English (Taye Diggs) had a rough go nabbing a slippery tech billionaire for killing two people. Their new case is even tougher: What started out as a mass murder on a school bus dovetails into the slaying of a colleague by a fellow officer. But which officer? Like last year, the whodunit will have viewers guessing all season. According to Robertson, even the actors don't know the killer's identity.
The scene on the school bus in the season opener was really intense. Was it tough to shoot?
It was the night we filmed the aftermath, when they line up all the kids' bodies on the ground, that was disturbing to shoot. My brother-in-law is a cop, and he's always telling me that cases involving kids are the ones you remember over anything else.
What effect does the incident have on Hildy?
It's so traumatic for her. This season explores what it's like to do a job that's really taking a toll on you mentally, physically, and emotionally. Poor Hildy gets beat up on so many levels.
You don't know who did it, but do you have a theory?
I genuinely don't! The producers wait until the very last minute to give us each script. We're shooting Episode 11 right now, and none of the actors have read Episode 12 yet. We start filming it in four days! If we weren't fast memorizers, we'd be in trouble. It's 50 percent fun and 50 percent annoying.
You've been on four very different shows: 90210, Boss, Bates Motel, and now this drama. Which one are you usually recognized for?
It depends on where I am. If I'm at Disneyland, it's 90210. If I'm in New York City or L.A., it's Boss. If I'm in Vancouver, it's Bates Motel. It also depends on the person. My husband and I joke that we can tell by someone's age where they're going to know me from. The best moment for me was when Oprah recognized me at an Oscar party. She was super into Boss!
Murder in the First, Season premiere Monday, June 15, 10/9c, TNT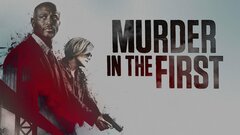 Powered by