Million Dollar Listing's Ryan Serhant on Getting Engaged (and Stabbed in the Back)
It's official: Real estate agent Ryan Serhant is off the market. On the May 27 episode of Million Dollar Listing New York, Bravo's docuseries about a trio of Manhattan brokers with big egos and even bigger commission checks, the former ladies' man shut down Times Square to pop the question to his main squeeze, Emilia Bechrakis. Now, all Ryan has to worry about is securing a suitable love nest—we'll get a tour of the new pad tonight—oh, yeah, and the 24/7 demands from crazy clients. Plus, there's being stabbed in the back by rival agents Fredrik Eklund and Luis D. Ortiz. Here, he sells us on all the action.
Congratulations on the engagement! How will you top that for the "I dos"?
With a proposal that big, we can't go off and have a boring wedding! It will be in Greece, most likely next year—but it'll really come down to what Emilia wants.
Does she ever lose patience with your round-the-clock wheeling and dealing?
No. I work on commission, so turning my phone off is like saying, "I don't want to make money right now"—and I've never felt that way. She doesn't have a problem with that.
If only things were as simpatico with your costars!
Oh, man—those relationships are always in cosmic flux. With Fredrik, I never seem to learn my lesson. I keep giving him all these second chances to work together. As far as Luis goes, we have a very traumatizing interaction coming up at the end of this season. I basically steal a seller from him, and he is not happy about it—but the client reached out to me! What else are you gonna do?
This week, we'll watch as you nab a $4 million property for yourself. How'd you know this place was the one?
We weren't even looking to buy; it just clicked. As a broker, you're always looking for the negatives, and I saw those, but I was overwhelmed by the positives. After six months, a gut renovation, and half a million dollars on furniture and design, we're in—and I will never touch anything in there, ever.
Million Dollar Listing New York, 10/9c, Bravo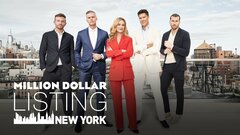 Powered by