Ask Matt: 'The Son' and TV Westerns, 'Ranch' and Laugh Tracks, Pilots in Limbo, Vintage Repeats, and More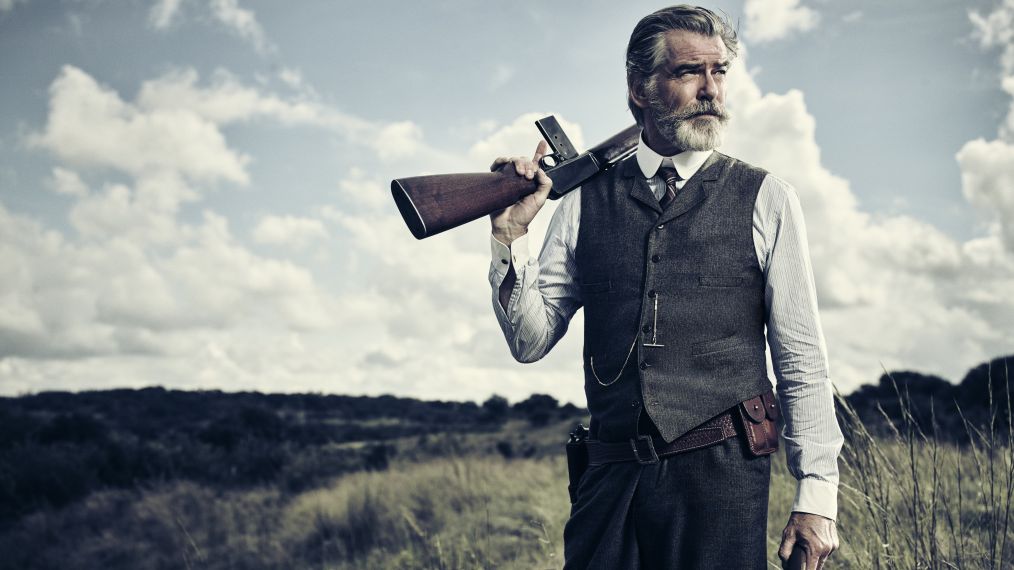 Welcome to the Q&A with TV critic (also known to some TV fans as their "TV therapist") Matt Roush, who'll address whatever you love, loathe, are confused or frustrated or thrilled by in today's vast TV landscape. One caution: This is a spoiler-free zone, so we won't be addressing upcoming storylines here unless it's already common knowledge. Please send your questions and comments to [email protected] (or use the form at the end of the column) and follow me on Twitter. Look for Ask Matt columns on most Tuesdays (though not on July 4) and Fridays.
Wishing TV Would Get Back in the Saddle
Question: I'm completely over the moon about AMC's renewal of The Son. Pierce Brosnan's star power as Eli McCullough, along with the "rising star" power of Jacob Lofland (young Eli) only make my fondness for TV historical fiction more insatiable. My question: Why does neither broadcast nor cable develop more Westerns? Perhaps I'm overly enamored with fond memories of watching Bonanza, The Rifleman and The Virginian during my youth. But with the giant leaps forward that TV has made in the last couple of decades, both in terms of writing quality and special effects, it seems to me this could be a very lucrative (untapped) market. Is it just a matter of the Western genre having been in limbo for so long that the networks can't break the habit of sticking to what's familiar to them? – Mary
Matt Roush: It's a good and enduring question, and there have been waves of development, even in recent years, when it looked like we might see a rebirth of a genre that dominated TV in its—and my—formative years. (I was particularly fond as a kid of The Big Valley, admiring Miss Barbara Stanwyck's prowess with a whip.) For some reason, the programmers never seem willing to actually pull the trigger, so to speak, and my belief is that it's mostly a demographic issue and the networks need to be convinced that shows set in this period still have a mass or multigenerational appeal. But even a critical success like HBO's profanely revisionist Deadwood was cut short at least a season too soon. The Son has many merits, but I doubt it's going to spark a trend—though given the recent nostalgia kick with TV revisiting '70s and '80s formats, you'd think someone might give a Western a shot again during the summer months.
But there is at least one modern Western with a season yet to go.
Question: Come on! We left Lou Diamond Phillips spread-eagled in the desert to die. Let's get on with it. When will the next season of Longmire be back? — Rosalie
Matt Roush: Whenever Netflix says, and it has yet to make that announcement. Be forewarned, though, that the forthcoming sixth season of the Western mystery drama will be the final season, which was announced at the time of the last renewal. It's hard to predict Netflix's timetable, but when the streaming service rescued the show after three seasons on A&E, the fourth and fifth seasons premiered on Netflix in September, so I'd expect the final episodes to drop somewhere in that fall time frame.
---
Put the Laugh Track Out to Pasture!
Question: I read the magazine feature on Ashton Kutcher and The Ranch so decided to watch it. The laugh track was so bad I couldn't last for two minutes. What were they thinking? Isn't it time for cable and streaming services to ban the laugh track once and for all? — Tom, Portland, OR
Matt Roush: I know they aren't to all tastes, but traditional sitcoms filmed in front of a live (and laughing) audience aren't going away, although except for CBS and rare exceptions elsewhere—The Carmichael Show and the upcoming Will & Grace reboot on NBC, The Ranch and the reimagined One Day at a Time on Netflix as key examples— they're not as prevalent as they once were. I still appreciate the form when done well—The Big Bang Theory and especially Mom are current favorites—and I should note that I have had several veteran producers (and actors) complain to me directly when I've used the dismissive phrase "laugh track." They insist the laughter we hear is genuine, though it's obviously sweetened. And while single-camera filmed comedies are the current industry norm, and command the most critical and award attention, I'm glad there are still those delivering TV comedy the old-fashioned way. They consider it a form of weekly live theater, and that's a tradition I'm not willing to see abandoned.
---
Pilots in Limbo
Question: Was the Carol Burnett/Amy Poehler comedy pilot (Household Name) picked up by ABC, or did it go to the place where unaired pilots go to die? It was announced with much ballyhoo in February. – Mark
Matt Roush: The network didn't pick up the show for the fall or midseason schedule, but the latest word is that it's being redeveloped. With these talents, let's hope they get it right and that ABC can find a home for it.
Question: So I'd been looking forward to seeing more of Andie MacDowell on TV after the cancellation of Cedar Cove (I'm still a tad bitter about that), and had been excited to see Model Woman—which I believe was supposed to be on ABC and was announced last year? But nothing seems to have come of it. Do you know anything? Was the pilot simply not picked up? I confess to understanding little about the process, but I thought that if a show was announced that meant the pilot HAD been picked up. Thank you, either way, for whatever insights you have on this. — Amanda
Matt Roush: There are several steps to the process. First the network decides to pick up the pilot, which means they'll go to the expense of actually filming the pilot episode. But unless it has a straight-to-series order, which is rare, the next step is being picked up to series, which didn't happen with Model Woman. That series was developed a year ago for last season, and that's why you're not hearing anything more about it now.
But if you're an Andie MacDowell fan, some good news. She's back at Hallmark Channel, starring in At Home in Mitford opposite Cameron Mathison, currently scheduled to air Aug. 19, a movie based on the best-selling books by Jan Karon that looks to me to have series potential, or a series of movies at the very least.
---
Hitting Replay With China Beach and Others
Question: Will we ever see reruns of China Beach on any TV channel any time soon? Really would love to see this again. — Dodie
Matt Roush: I'm afraid your best bet is to rent (if you can) or purchase the series on DVD, either the superbly produced (but pricey) deluxe boxed set of the great Vietnam War drama, or the less costly option of purchasing individual seasons on DVD. China Beach did have a limited syndication run on Lifetime years ago, but unless someone licenses it again—and with all that vintage '60s music, it probably doesn't come cheap—I'd be surprised to see it on over-the-air TV anytime soon. I'm really not an expert on the afterlife of shows, and I was surprised I couldn't find even a trace of it on any of the streaming giants. I loved China Beach during its ABC run in my first years on the TV beat, so I get where you're coming from.
---
Question: With all the hundreds of channels we have, it's interesting that not all shows are in reruns. Seems like with all the TV shows made since TV was invented that every show ever made would be on TV to watch. With all the channels, there sure seems to be enough room, wouldn't you say? – Ray
Matt Roush: Room, yes. Endless financial resources to license all of the shows, maybe not. There are plenty of nostalgia outlets airing vintage TV of all sorts, including the lost arts of the variety show and (see above) the TV Western, and I only wish I had more time to indulge in them myself.
Question: I'm a Baby Boomer who only watches over-the-air TV. I had cable, but it cost so much that I spent way too much time watching it to justify the cost. Thankfully, free micro-channels like MeTV, Antenna, Laff, Escape, Heroes and Icons, and MoviesNetwork offer quality rerun variety to network programming. I also buy lots of TV-on-DVDs, though I usually wait for a sale price or a used copy. Netflix releases DVDs of its popular shows like House of Cards and Orange Is the New Black. My question: Do you think other streaming services like Amazon, Hulu, Crackle and CBS All Access, will eventually release DVDs of their original programs? – Maurice
Matt Roush: Variations of this question have become more common, especially after CBS put The Good Fight (and the forthcoming Star Trek: Discovery) exclusively on its subscription service. I wish I had a definitive answer, though it's most likely a case-by-case basis depending on the deal made by each individual show and service. I haven't had the luxury of researching this situation fully, but it looks to me like most if not all of Amazon's originals, for instance, are only available for streaming by Prime members, even those with multiple seasons like Bosch and Transparent. While DVDs do provide an additional revenue stream for some of these projects—though the demand has diminished in this digital age of downloads and streaming—the reason many of these shows exist at all is to be exclusive to their streaming outlets as an incentive to drive subscriptions. So don't hold your breath.
---
The Challenges of Reading TV
Question: I just finished the most recent season of The Americans. This is one of the best shows on TV. Half of the show is in Russian and the closed caption is shown clearly on a colored screen and is easy to read. I believe this season was the clearest closed caption so far. Please pass this message on to some of the other shows which show the closed caption on light background, and it is hard to read, such as Jane the Virgin. Also a new feature on some of the shows is to show phone and text messages. You almost have to be sitting on the television to read these text messages. Do these people not watch their own shows? — Carol
Matt Roush: Another fairly common complaint that deserves to be heard by those using these narrative devices. Good to know, though, that there's something else that The Americans does better than anyone else. I'm going to miss that series when it's over next year.
That's all for now, and we'll pick up the conversation again after the holiday, so Happy 4th of July, everyone. Thanks as always for reading, and remember that I can't do this without your participation, so please keep sending questions and comments about TV to [email protected] or shoot me a line on Twitter (@TVGMMattRoush), and you can also submit questions via the handy form below.