Dig This! Courtney Thorne-Smith in 'Site Unseen: An Emma Fielding Mystery' (VIDEO)
Uncovering the secrets of the dead can lead to fatal consequences. Courtney Thorne-Smith (According to Jim, Melrose Place) and James Tupper (Revenge, Big Little Lies) star in the Hallmark Movies & Mysteries film Site Unseen: An Emma Fielding Mystery this Sunday.
The film spins on the discovery of a 17th-century settlement in Maine that appears to predate Jamestown. Thorne-Smith plays Emma, a genius archaeologist who finds a recently deceased body at the site and teams with FBI agent Tim Conner (Tupper) to expose the killer. Excavation is a dirty business!
Here's an exclusive preview:
Site Unseen: An Emma Fielding Mystery, Sunday, June 4, 9/8c, Hallmark Movies & Mysteries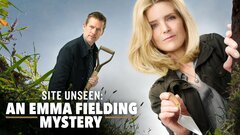 Powered by