I Want My Gen X TV: An Open Letter to MTV's New Boss
Memo to: Doug Herzog, newly-named head of Viacom Music and Entertainment Group (MTV, MTV2, Logo, VH1, Comedy Central and Spike)
From: Michael Schneider, Generation Xer
Congrats, Doug – this is a big homecoming for you. You first joined MTV in 1984, back when it was just becoming a cultural force, and were there for most of the channel's landmark moments (like Live Aid) during those early years. I was at home, a young kid glued to the screen, watching every minute of MTV's golden decade.
Later, you moved to Comedy Central, launching The Daily Show and South Park, before heading to Fox and USA Network. Since returning to Viacom in 2004, you've shepherded big growth for Comedy Central, Spike and TV Land.
But now you've been given the keys to the MTV empire, which is a much different place these days. Of course, I'm completely out of the target demo now, so I've made peace with the fact that this isn't the MTV I grew up with. As a matter of fact, I'm not one of those people who complains about where the music videos went. (Although you have to admit, Portlandia's take on the matter is pretty great.) The music went to YouTube, people, get over it. MTV is doing well with its Millennial-targeted fare, and I can appreciate that.
But MTV isn't just the mothership channel. You're also in control of the MTV/VH1 digital channels — including MTV Jams, MTV Hits, mtvU, VH1 Classic and VH1 Soul.
This is where your experience and appreciation of MTV's history – and my generation's growing nostalgia, as we start flirting with 50 – comes into play. (Hell, even the Millennials are feeling nostalgic – look at how well TeenNick's "The 90s Are All That" franchise does.)
Do you really need an "MTV Jams," and "MTV Hits" and a "VH1 Soul"? Can't some of those be consolidated to make room for a network devoted to the generation that grew up with MTV?
I pitch to you: MTV X.
A channel for the generation that grew up with VJs, Remote Control, 120 Minutes, Yo MTV Raps, Daria, and more. Program the channel with some of those classic music and series episodes. Acquire reruns of touchstone series from the 1980s and 1990s that didn't necessarily even air on MTV but still targeted the demo. Borrow from your Viacom siblings — I'm not the only Xer who'd get a kick out of seeing old episodes of 80s-era Nickelodeon's You Can't Do That on Television. Do some music blocks – both retro and current – quieting the Gen X critics who lament the loss of their music videos.
But we also know that library content can't sustain a network. That's why you would also want to use the MTV infrastructure to include new content. Have "Weird Al" Yankovic produce a new version of his AL TV channel takeover. Give Kurt Loder an in-depth music news series in the vein of HBO's Real Sports with Bryant Gumbel, utilizing MTV News resources.
Why didn't the Beavis & Butthead reboot work? Because it should have been on MTV X, not MTV. You know all those comedians you just spent the last decade with at Comedy Central? They're all now becoming parents – maybe they have something to say about their new, grown-up reality that could make for an MTV X show. And as one of the execs who initially launched The Real World, how about asking Bunim-Murray to produce The Real World: Grown-Ups for MTV X?
And bring back Martha Quinn. Definitely bring back Martha Quinn.
We know nostalgia sells – the hottest radio format at the moment is Classic Hip-Hop, which is currently spreading across the country. The growth of digi-nets (MeTV, Cozi TV, Retro TV, etc.) is another big TV story of 2015 – but most of those broadcast digital channels are targeting boomers. Get in there with one targeting Xers, before someone else does!
(Yeah, I know VH1 Classic already traffics in nostalgia, but that channel has become mostly a home for concerts, old movies and a lot of heavy metal. The direction of VH1 Classic is perhaps a different conversation for another time.)
MTV X was originally the name of MTV's all-rock digital channel, which shut down in 2002 to make room for MTV Jams. So hey, you guys even already have the name licensed and sitting on a shelf somewhere!
While everyone's now chasing the elusive Millennial, and others cling on to the ever-aging baby boomer, the Gen X audience seems primed for a small channel that speaks to them. I Want My MTV X.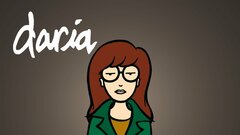 Daria
where to stream
Powered by
Powered by