First Look: Nickelodeon's New Animated Series Harvey Beaks (VIDEO)
RDLCJzfc
Nickelodeon's new animated series Harvey Beaks centers on a kid who's never broken the rules, and his pals Fee and Foo, who don't know there are any.
Chowder creator C.H. Greenblatt is also behind Harvey Beaks, which premieres in March with 26 episodes. Nickelodeon Animation Studios produces the show in-house in Burbank, Calif.
Besides Chowder, Greenblatt's other credits include SpongeBob SquarePants, Cartoon Network's The Grim Adventures of Billy & Mandy and DC Nation's Deadman.
Here's your first look at Harvey Beaks, which will be revealed to Nickelodeon viewers on Feb. 14.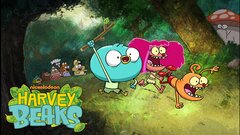 Powered by