Cartoon Network Gears Up for Transformers: Robots in Disguise
Just when it seemed like Saturday morning cartoons had gone the way of Cybertron, the Cartoon Network and Hasbro are giving us (and the machines) a reason to rise and shine with Transformers: Robots in Disguise. Centered on Bumblebee, the Autobot also known as a yellow muscle car, this fun new entry in the franchise inspired by Hasbro's popular line of mighty morphin' mobile changers has a more humorous vibe than previous incarnations such as Transformers: Prime or Beast Wars.
In this version, Optimus Prime puts 'Bee in charge of protecting our planet when the troublemaking Transformers on the new team—including Dinobot fave Grimlock—find their metal, err, mettle tested by a crew of Decepticons, who wreak havoc on mankind after their prison ship crashes on Earth. Among the vocal cast is Glee's Darren Criss, Entourage's Constance Zimmer, Boy Meets World's Will Friedle, and the only person who should ever voice Optimus Prime, Peter Cullen.
Check out this exclusive look at the series, which is set to debut with a primetime premiere on March 14 at 6/5c, before transforming into its regular 6:30 a.m. slot on March 21.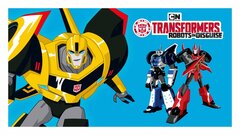 Powered by