Homer Simpson Will Be 'Inducted' Into Baseball Hall of Fame
Feb. 20 marked the 25th anniversary of the premiere of the classic Simpsons episode "Homer at the Bat," which found Mr. Burns stacking his nuclear power plant's softball team with ringers—a who's-who of early '90s Major League Baseball stars including Don Mattingly, Jose Canseco, Darryl Strawberry, Roger Clemens, Ken Griffey, Jr., Steve Sax, Ozzie Smith, Wade Boggs and Mike Scioscia, who also voiced themselves in the episode.
"Homer at the Bat" is not only beloved among Simpsons fans, but also among baseball fans (and especially among any who cross over into both groups). So much so that the National Baseball Hall of Fame has announced that it will be saluting the iconic episode on May 27, during the 2017 Hall of Fame Classic Weekend.
See Also
Homer, Marge, Lisa, Bart and Maggie are breaking another TV record!
"In Cooperstown, we salute baseball's greatest contributors, preserve its vast history and salute the cultural side of the sport," explained Jeff Idelson, president of the National Baseball Hall of Fame. "We are honored to pay tribute to the 25th anniversary of 'Homer at the Bat.' The Simpsons has left an impressive imprint on our culture as the longest-running American sitcom, and 'Homer at the Bat' remains as popular today as when the episode aired in 1992. Baseball is recognized as our National Pastime due to its wide intersection with American culture over the last two centuries, evident in literature, theater, language, art, music, film and television. The Simpsons is a perfect example of that connection to Americana."
The celebration of "Homer at the Bat" on May 27 will include a roundtable discussion featuring the episode's executive producers Al Jean and Mike Reiss, director Jim Reardon, executive story editor Jeff Martin, and casting director Bonnie Pietila. Wade Boggs and Ozzie Smith will also join in the discussion, which is free and open to the public. During this roundtable, Homer—who ended up winning the championship softball game for the nuclear plant with a walk-off hit-by-pitch—will be "inducted" into the Baseball Hall of Fame. The brief ceremony will be followed with the official ribbon-cutting on a Simpsons-themed exhibit display in the Museum.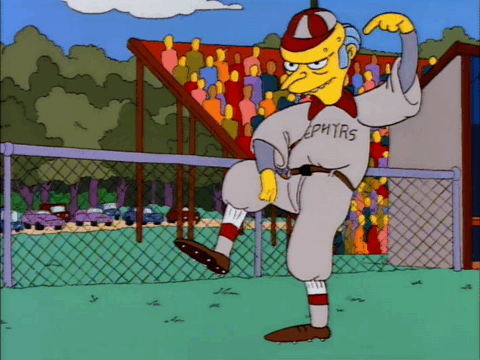 The Simpsons, Sundays, 8/7c, Fox
Powered by