Brandi Glanville: 'More Went Down Than What People Saw on TV'
The Hills are alive…with the sound of haters! Despite all the California sunshine, Brandi Glanville–the most brazen member of the Real Housewives of Beverly Hills septet–can't help but draw shade from her castmates on the Bravo docuseries. (Her latest 9021-oh-no-she-didn't moments include tossing a glass of wine at newcomer Eileen Davidson and getting into a shoving match with would-be queen bee Kyle Richards.) Here, the unfiltered former model (who's also competing on Celebrity Apprentice) serves up a shot of Brandi.
All it took was a poker night to turn you and Kyle from allies to enemies! What gives?
A lot more went down than what people saw on TV. We were both drinking–we had a bottle of champagne on the way over–but they only showed me with a glass. If you get physical with me, it flips a switch.
How can loyalties shift so quickly in this group?
It's like musical chairs! In my everyday life I don't have that, but when the world is watching, smaller things are taken more seriously. And there's no other forum where you can see what people say behind your back. For example, I thought Lisa Rinna and I were good. Now, watching her interviews, she's pissing me off.
Why is your drinking such a hot topic?
It's kind of old news. I'm not sober, and I'm not an alcoholic. Most of the other women are a lot older than me–and married–so they're in bed by 8:30. I have a different lifestyle. Take me for who I am–or don't!
Speaking of: You decided to douse Eileen, a soap opera star, with wine. Is that because you're a superfan?
I was in shock afterward. I grew up watching her on Days of Our Lives, and I couldn't believe I did it. When I went home, I laughed and cried. I wish I could blame it on being drunk, but I can't. There's zero explanation, except that I'm an a–hole!
The Real Housewives of Beverly Hills, Tuesdays, 9/8c, Bravo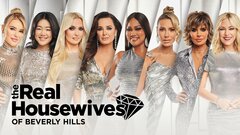 Powered by