'American Idol' Winner Iam Tongi Speaks Out on His Journey & Honoring His Late Dad
Yessah! Iam Tongi is your 2023 winner of American Idol. The 18-year-old from Kahuku, Hawaii, was a frontrunner from the start. His initial Idol audition emerged as the most-watched video on the show's YouTube channel, amassing 16 million views in three months. Audiences even chanted his name whenever he appeared.
Fans didn't just connect with his performances but with the teen's heart-wrenching story of losing his father Rodney a few years ago to kidney disease. Who could blame Iam for feeling emotional when host Ryan Seacrest revealed he had won the nationwide vote over runner-up Megan Danielle during the May 21 star-studded finale?
The morning after the last piece of confetti fell in Hollywood, we caught up with the newly minted Idol champ about his emotional journey.
First off congratulations. How did it feel hearing your name as winner of American Idol 2023?
Iam Tongi: It's amazing. I was so happy everyone voted. Thank you to everyone. Now that I'm the Idol of the 21st season, it's crazy.
Put into perspective the response you received from that first audition. How much did life change?
It was amazing that I got to share that experience with the world. It's such an amazing feeling to inspire others. To show that it's not a bad thing to talk about your problems and what you go through.
You formed quite a bond with fellow contestant Oliver Steele. He has been a big supporter of yours. How was it having that friendship through the competition?
Oliver is such a great dude. I grew to be close with almost all of the others too. I love Oliver. We grew close right from "Hollywood Week." He called it out right in Hollywood, saying, "You're going to win this thing." I was like, "You're crazy."
When someone says that, how do you take that in? Even when judge Katy Perry said during "Disney Night" that, " Iam stands for "I am the next American Idol." Was it a confidence boost or added pressure to deliver?
It's a lot of pressure because it makes you think you have to be the next American Idol. And you don't want to let anyone down. But I love Katy. She and everyone have been amazingly supporting me.
You returned home to the island where you were greeted by 14,000 fans during your concert with the likes of Jack Johnson in attendance. How was that?
Jack Johnson is such a cool guy. He is amazing. I just love him and everyone that came out. We also had John Cruz and Paula Fuga. Jasmine Trias came to my performance last night. To see the support from my community has been amazing.
This is Asian American and Pacific Islander Month. Does the timing make your milestone feel even more impactful? The first Idol winner from Hawaii.
I've always been about making my people proud, my family proud, my dad proud. My culture. It's so cool I get to be an inspiration to other Polynesians and other people like me. I'm a Polynesian boy, but I love everyone.
Your duet with James Blunt on "Monsters" during the finale reduced everyone to puddles. Katy and even Jelly Roll watched from the audience sobbing. What was that experience like?
It's an amazing feeling. James Blunt is such a great guy and so chill. Right when he sang the first words from our duet, he started crying too. Jelly Roll, I'm telling you is the nicest guy I've met in the industry so far. He is so cool and down-to-earth. I just love him.
Talk a little bit about the powerful meaning behind your original out "I'll Be Seeing You." Music is such a great healer. What do you make of the response it has been getting?
That song is about if you lose a loved one and see something they used to do or love, you see them. It reminds you of them. For me, that was for my dad, but it could be for anyone who has lost someone.
What kind of artist do you think you'll be now?
More like a Jack Johnson artist. I want to give that kind of vibe. I don't want to limit myself to one genre of music because I love all music. I just want to have fun with it.
Yessah! has really caught on. How does it feel to have that as one of your trademarks?
I grew up and we used to say that. It's normal for me and everyone I grew up with. When something cool is happening we say, "Yessah!" It's cool to see that catch on.
What would you say got you through the tough times on Idol and being away from home and family for so long?
My friends got me through at Idol and friends in general. I call them. My friends in Hawaii and Seattle, I just call them to talk. We just have conversations. I try to have fun.
Was there one piece of advice from the mentors or judges that you will take with you?
Katy, Luke [Bryan], and Lionel [Richie] said I was a great storyteller, but they helped me look at that and really work on that ability. I still need to work on that more.
A big story for you this season has been the connection to your dad's guitar and how you used it all the time for your performances. However, there was a point where you were forced to leave it behind. How was it overcoming that hurdle?
I always wanted to play my dad's guitar, but when it broke the first time, that was hard. Oliver told me that it wasn't about the guitar but the voice. My mom told me the same thing. I just started to believe my dad was going to be with me no matter what whether I used it or not. The guitar will always remain a treasure.
How do you think your dad would have felt about you winning?
I know he would have been happy. I just love him and miss him and know he would be proud.
What advice do you give future contestants?
Just cherish the moment and have fun. Don't take it too seriously because if you take it too seriously you're going to worry. So don't worry. Have fun.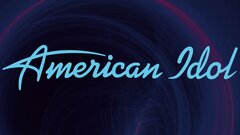 Powered by