Kiefer Sutherland Is Game to Go Down the 'Rabbit Hole' Again for Season 2
The good news is that if there isn't a second season of Rabbit Hole, the first didn't leave us completely hanging. The bad news is that we do have quite a few questions after the finale.
For instance: Who is John (Kiefer Sutherland) moving forward after everything he's been through? Can he trust Hailey (Meta Golding)? Can this new team work together? What other secrets is Ben (Charles Dance) hiding? Who was on the other end of that in-ear comm Ben took off the (supposedly) dead Crowley?
But will there be a second season? Executive producers, writers, and directors John Requa and Glenn Ficarra want one and have ideas, but when TV Insider spoke with them, they could only say they were thinking about doing one, though they couldn't say more with the ongoing writers' strike.
Sutherland certainly wants to do more. "I absolutely adored working on the show, and I absolutely love John and Glenn and their process, and I just absolutely love the cast," he told us. "It was an extraordinary group of people, and we had an awful lot of fun working, and yeah, I hope we get to do it again."
That said, he admitted that it's not as easy to tell with streaming as it used to be with networks how things were looking for a renewal. "It's so weird now because I did ten years on 24, and I did three years of Designated Survivor, two years of Touch, and those were all network-based shows — at least Designated Survivor 'til the final year, then it was Netflix," he explained.
"With the networks, there was a relationship somehow that would get developed pretty quickly and you would know. You would get a sense it would be leaning one way or another, and you would pretty much know as you were finishing up your season what was going to happen," he continued. "With the streaming services — with Paramount+ and my experience with Netflix, and I have to believe with all of them because I've heard this from other actors and writers as well — there's kind of a wall between the group that makes whatever the programming is and the people that actually program it, and I don't know why, but Nielsen's not publishing the ratings for these shows particularly. And so there's a lot of counting and figuring that's going on that really you're not involved with at all. It's just changed. So it is very odd to not have a sense of where they stand with it."
But going by his own "least scientific study you'll ever hear" — word of mouth — Sutherland was feeling optimistic when we spoke prior to the finale's release on May 7. "The thing that I rely on the most and always have is you can tell the success of a show just walking around. I'm at the point in my career that people will stop [me] and … either talk about Lost Boys and Young Guns, or they'll talk about what you're doing at the moment. And for the last five or six weeks, people have not been asking me about Lost Boys or Young Guns. They've been asking me about Rabbit Hole," he said.
Let's just hope we get to see more.
Rabbit Hole, Season 1, Streaming Now, Paramount+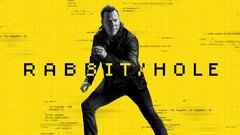 Powered by