Jim Belushi on 'Growing Belushi' Season 3, Potential 'According to Jim' Reboot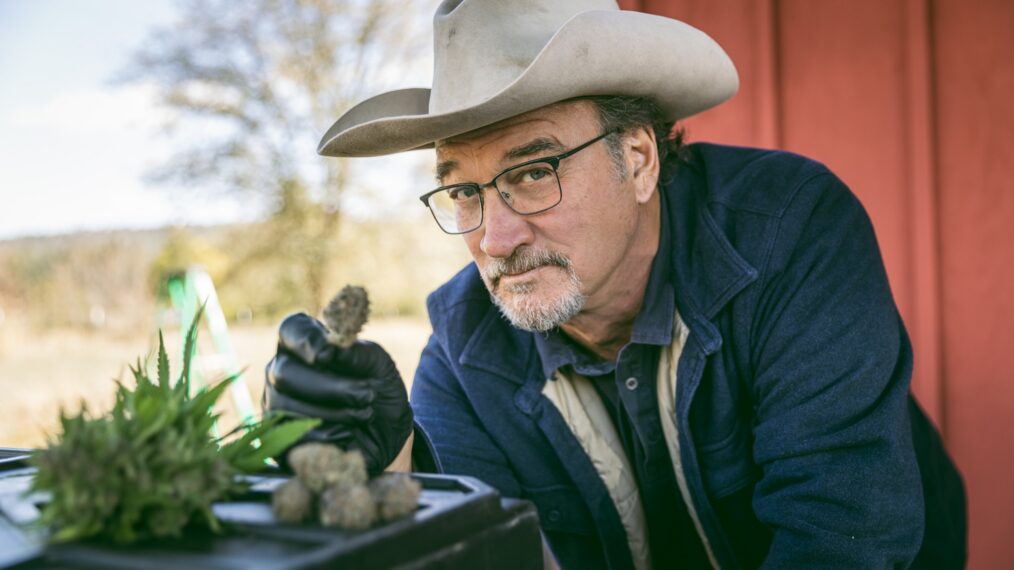 For Jim Belushi, Growing Belushi is not just about his foray into the weed business on an expansive farmland property in Southern Oregon. The actor turned budding cannabis mogul finds the docuseries also chronicles his growth as a person through the experiences and challenges faced.
Going into season 3, Belushi Farms must pick up the pieces after a mysterious fire burned $500,000 worth of cannabis and the barn that housed it to ash. While an investigation is underway of what or who caused the blaze, Belushi and his cousin Chris Karakosta, the company's general manager, are against the clock to build up a new facility before more product is lost.
Belushi's former According to Jim co-star Larry Joe Campbell tries to lend his expertise (or lack thereof) to the farm staff. The star also has to juggle his new family dynamic with the kids coming out of a divorce. Belushi will also hit the road with plans for expansion of the brand and company throughout the United States and globally with a trip to Albania.
Here Belushi sits down with TV Insider to preview what's to come this season on Growing Belushi and reminisce about According to Jim and more.
What kind of impact do you think the show has on the perception of the cannabis industry and clearing up misconceptions?
Jim Belushi: When you're going on Discovery, you're reaching a whole new audience. My hope is to make the curious understand the cleanliness, the testing involved, and some of the medical attributes that come along with cannabis. I'm hoping it has an influence. Everyone knows someone who is suffering, whether they are screaming inside emotionally or physically. The audience is getting wider and more curious. So this show helps them make that decision of whether is there an alternative medicine with plant medicine in particular.
How is it for you to have the journey into this business chronicled over what is now three seasons?
Everything I've done in my career I'm putting into this reality show. We're improvising, writing, editing, producing, and starring in it. I've got music with The Blues Brothers. Everything I've ever done is a culmination of this show Growing Belushi. It feels like a natural extension to go into this reality show.
In this season of Growing Belushi, the focus is on the expansion of the company. We'll even see you sitting down with the prime minister of Albania, Edi Rama. You also go to so many other destinations. What are you most excited for viewers to see this season?
We were in 14 states and three countries in three months. I've collected a lot of frequent flyer miles. Albania was very unique and interesting. They are interested in creating an export of medical cannabis for the EU. I know the prime minister because I am Albanian, and he wants my point of view on how to do that. It just happened, and I said, "Let's film that." There are so many different states and regulations in each state with its own set of challenges. We chronicle that. The main thing is me and my cousin. It gets funnier and funnier. It's also very informative about cannabis and tracks the trials and tribulations of a man trying to find himself. Growing Belushi.
Larry is so fun on the show. Do you stay in touch with many other cast members from According to Jim?
It's been more I've always stayed in touch with Larry. He has always been the single best comic partner I've worked with. I've been in an improvisational group called the Board of Comedy for about 10 years. He is in that group. We've still been working together, and I love him like a brother. To me, this is a family show. My son is in it. My cousin is in it. Larry is in it. Danny Aykroyd is in it. My daughter is in it, at least last season she was in it more. The family working on the farm I'm close to. It's a family business.
According to Jim had such staying power over eight seasons with the last two seasons on the bubble. Are you satisfied with how the way the show ended looking back?
We were in the Top 25 longest-running shows in television history at that time. It was terrific. That juggernaut American Idol put a lot of people to bed. We were one of them at the end or we could have probably gone a couple of more years.
In the world of reboots, how much have you thought about bringing the show back? Where do you think Jim might be today?
Absolutely! I think it would be fun to see all the kids growing up and the problems we have with the kids, the in-laws, sons-in-law, and grandkids. Maybe Courtney [Thorne-Smith] and I are separated. Maybe Larry ends up being my boss in the end. It would be really cool. I think it could be really fun to pick up According to Jim today.
Maybe he'd trade in the contractor business with the cannabis business?
We could do According to Jim growing cannabis with all the kids on the farm pulling weed.
According to Jim had so many guest stars, people like Jennifer Coolidge. Did you have a favorite guest star?
Jennifer Coolidge was stunningly funny. Laraine Newman did some good work. Danny was on that a couple of times. He is on Growing Belushi. We've been buddies and brothers forever.
Also, in this season of Growing Belushi, you meet up with Arnold Schwarzenegger. You first worked together on the film Red Heat and then Jingle All the Way.
I even did a cameo for Arnold's Last Action Hero. I helped him with his campaign as governor. Arnold is a dear friend. He was kind of enough to do a little spot on Growing Belushi. He and Bill Maher, who is a cannabis advocate. He was also happy to do it.
Of course, you're also known for your work on Saturday Night Live. How do you feel SNL has evolved? Are you surprised it is still going strong today?
It's about to hit 50 years buddy. The amount of talent that has been trained, taught, and spread out the laughs all over the world. It's so amazing. I'm so proud to be part of that legacy.
Do you have a favorite impression or bit you think about today from SNL?
I did very well with those shorts. I was told I was a better film actor than a sketch actor. But I loved doing "Rappin' Jimmy B," a white guy's rap. "Rappin' Jimmy B" was fun. It was musical and funny and satirical. I loved doing Willie Nelson. I did this one that is my favorite called "Chess Coach." I played a chess coach for the high school chess team. It was very funny.
You mentioned Dan on Growing Belushi. You're also together on his upcoming A History of the World in Six Glasses docuseries. How was it getting together along with fellow SNL alums?
That show is so up Danny's alley. It's six glasses. A glass of beer, wine, spirits, coffee, tea, soda. I sit at a bar with Danny. We have Kevin Nealon, Jon Lovitz, and [Cheers'] George Wendt, who we are covering beer with. It's basically having a talk, but Danny goes on about the history of all these things. He is so articulate and knows so much. It's a very interesting show with a few laughs between Danny, me, and the guys.
It's amazing to see the type of bond you have with Dan after all these years.
After John's [Belushi] passing, Danny came in and swooped me up and cared for me, and loved me like a brother. I'm so grateful to him, for his love and care for me. The man has the most beautiful heart. We've become so deep.
We've been doing The Blues Brothers now for 25 years. I didn't think I could do it. I said, "No Danny. That was John's thing." He told me, "Absolutely not. When one of the partners goes down, the son or brother takes over. And you are a Blues Brother and we will keep the Blues legacy alive!" I went, "You don't think it's weird?" He said, "Absolutely not." I stepped into The Blues Brothers' character as Zee Blues and have done it for 25 years I have been dancing with this large Canadian heart, and we've been riding our F-16 engines of a band and spraying music and joy to everyone. I've had so much fun with Danny on stage.
Growing Belushi season 3 premiere, April 5, 9/8c, Discovery