Jason Ritter Joins 'Matlock' Reboot on CBS
Jason Ritter has been cast to lead opposite Kathy Bates in CBS' upcoming pilot for a Matlock reboot, which will reimagine the classic legal drama previously starring Andy Griffith.
The Accused star and Yellowjackets guest star will play Julian, the son of the head of the firm. Julian was born with a silver spoon in his mouth, but he is still not to be underestimated, according to Deadline. "Diligent and persistent with a lot to prove, he's at odds with prioritizing his family and balancing his career. He always considers the good of the firm, even if it pushes the boundaries between his work and personal life."
The revival, which comes from Jane the Virgin creator Jennie Snyder Urman and NCIS: Los Angeles star Eric Christian Olsen, revolves around Madeline Matlock (Bates), a brilliant septuagenarian who rejoins the world of law where she uses her unassuming demeanor and wily tactics to win cases and expose corruption from within.
The show also stars East New York star Skye P. Marshall, David Del Rio, and Leah Lewis.
In addition to her starring role, Bates will executive produce the pilot alongside Snyder Urman and Joanna Klein of Sutton Street and Olsen and John Will of Cloud Nine.
Ritter's recent credits include Hulu's Candy (alongside Yellowjackets' star Melanie Lynskey), Netflix's Raising Dion and ABC's A Million Little Things, and Kevin (Probably) Saves the World. He is repped by CAA and The Burstein Co.
Matlock, created by Dean Hargrove, originally premiered in 1986 on NBC and aired for nine seasons, ending its run in 1995 on ABC. It starred Griffith in the lead role, became a huge hit, and today is regarded as one of television's most iconic crime dramas.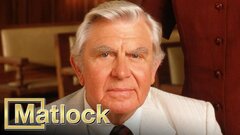 Matlock
where to stream
Powered by