'Good Doctor' Parent Trap, 'Magnum' Flashback, 'Fantasy' Time Loop, Gold in the 'Bloodlands'
The Good Doctor lovebirds Shaun and Lea get a reality check when it comes to their different approaches to impending parenthood. In advance of the show's return on a new network, NBC airs the 2018 pilot episode of the Magnum P.I. reboot, formerly on CBS. Fantasy Island's Roarke gets caught in a guest's time loop. An American gangster joins the search for gold in the Irish noir Bloodlands.
The Good Doctor
We should have seen this coming. While Shaun (Freddie Highmore) and Lea (Paige Spara) are understandably overjoyed at the thought of becoming parents, their very different views on child-raising sparks a new round of relationship angst as they fret about how they'll relate to each other once the baby comes. In medical news, Dr. Lim (Christina Chang) and Allen (Bria Samoné Henderson) fret over a damaged pair of lungs intended for an upbeat cystic fibrosis patient.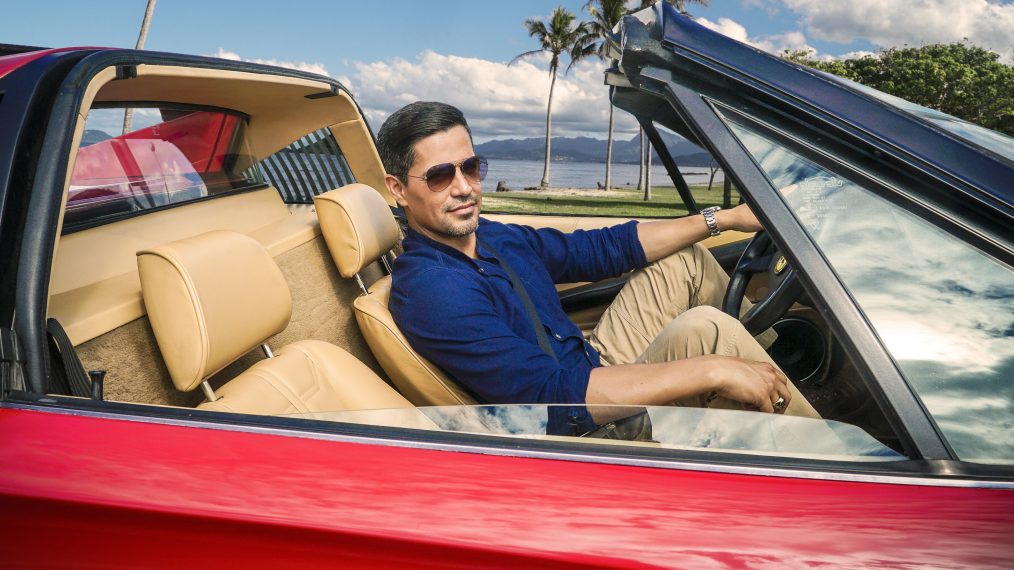 Magnum P.I.
Score one for the fans, who revolted when CBS canceled the sun-splashed reboot of the iconic 1980s private-eye series after just four seasons. NBC stepped in for the rescue—it helps that the network is aligned with Magnum's studio—and before the new episodes begin airing on Sunday, NBC reminds us how it all began with a repeat of the 2018 pilot episode, starring Jay Hernandez as Thomas Magnum and Perdita Weeks as the female Higgins, a former MI6 agent.
Fantasy Island
Roarke (Roselyn Sánchez) gets a sinking groundhog's-day feeling after becoming trapped in a guest's time loop, which began when new visitor Oliver (Jonathan Bennett) proposes to his boyfriend (Aaron Costa Ganis), and his refusal causes Oliver to live the same day over and over. Roarke has her own relationship issues to contend with, and as she gets caught in the loop, she faces her fears about getting romantically involved with Javier (John Gabriel Rodriquez).
Bloodlands
In the third and fourth episodes of the grim Irish noir thriller, crooked cop Tom (James Nesbitt) makes an alliance with widowed murder suspect Olivia (Victoria Smurfit) to search for long-hidden gold. Their hunt gets more complicated when an American gangster shows up to get his hands on the loot.
INSIDE MONDAY TV:
America's Got Talent: All-Stars (8/7c, NBC): The judges look back at the Top 11 while awaiting next week's final performances.
The Neighborhood (8/7c, CBS): The Butlers and the neighboring Johnsons rally around Marty (Marcel Spears) after his shocking announcement.
Bob Hearts Abishola (8:30/7:30c, CBS): Also shocked: Bob (Billy Gardell) and all the rest of Abishola's (Folake Olowofoyeku) nearest and dearest, when she decides to postpone taking the Medical College Admission (MCAT) Test.
UFOs: Investigating the Unknown (9/8c, National Geographic): A five-part docuseries (opening with two episodes) takes a deep dive into the U.S. government's decision to authorize an official investigation into so-called unidentified aerial phenomena.
Summer House (9/8c, Bravo): "Mayhem" is how long-timer Paige describes the new seventh season of the reality show set at a Montauk beach house.
NCIS (9/8c, CBS): Series star Brian Dietzen co-wrote this episode, with Parker (Gary Cole) learning that a conman from his past is accused of murdering a Navy officer transporting millions in opioids.
Love in the Time of Fentanyl (10/9c, PBS): The real-life drug crisis underscores an Independent Lens documentary, set at Vancouver's Overdose Previous Society, a supervised site for drug users, staffed by folks with past or active drug dependencies.
Roseanne Barr: Cancel This! (streaming on Fox Nation): In what's said to be her first stand-up comedy special in nearly 20 years, the disgraced comedian (whose Roseanne reboot became The Conners after she was fired) regales a Houston audience with her barbed grievances. The streamer also offers a documentary profile, Who Is Roseanne Barr?