'Fawlty Towers': John Cleese & Rob Reiner Team for Revival of '70s Classic
John Cleese and Rob Reiner are teaming up for one very special revival of the 1970s classic comedy Fawlty Towers.
According to The Hollywood Reporter, Cleese will write and star in the show alongside his real-life daughter Camilla Cleese with Matthew George, Rob Reiner, Michele Reiner, and Derrick Rossi attached as executive producers for Castle Rock Television, which is developing the project.
The British comedy ran from 1975 to 1979 and featured Cleese in the role of hotel owner Basil Fawlty, a man whose incompetence, short fuse, and arrogance help breed the kind of chaos that guarantees accidents and trouble. In this updated version, Cleese's Basil will navigate a more modern world.
Specific plot details are being kept mum for now, but according to THR the show will explore the relationship between Basil and a daughter that he only just discovered he had. Together, the pair will team up to run a boutique hotel.
"What I like about Matt is that, unlike many producers, he really 'gets' the creative process," said Cleese in a statement shared by THR. "When we first met, he offered an excellent first idea, and then Matt, my daughter Camilla, and I had one of the best creative sessions I can remember. By dessert we had an overall concept so good that, a few days later, it won the approval of Rob and Michele Reiner. Camilla and I look forward enormously to expanding it into a series."
Meanwhile, of the team-up, Reiner shared, "John Cleese is a comedy legend. Just the idea of working with him makes me laugh."
Stay tuned for more on the developing project which has yet to attach itself to a network or streaming service.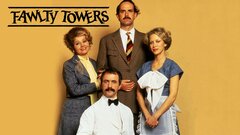 Powered by