'Are You the One?' New Host Kamie Crawford on How the Show's Like 'Catfish'
The Are You the One? dating pool is venturing into international waters for season 9. The popular relationship competition series sees 22 new singles from the United States, Europe, Australia, and New Zealand punch their passports in Gran Canaria, Spain. There they'll search for love and potentially take home big money.
Each week the male and female contestants will participate in challenges to test how well they know each other. Rewards are in the form of romantic outings. Top vote-getters among the cast take trips to the "Truth Booth" to verify the chosen two people are a perfect match. A collective pot of one million dollars is on the line if they can all 100 percent successfully identify their matches during the Match Up ceremony. Easier said than done.
This season there is also a new host fronting the show, Kamie Crawford. We caught up with the beauty queen turned MTV's Catfish co-investigator to preview this rollercoaster of love.
How would you say going global gives the dynamic a different feel compared to prior seasons?
Kamie Crawford: I think it's super exciting because we have the opportunity to have such a diverse cast. For me, in any project I'm a part of, diversity is always at the forefront. The fans of the show want to see themselves reflected too. So I think it's exciting to see how other people from across the world meet and navigate dating. A lot of us think we are isolated alone in our own cities in the dating pools that tend to have pee in them. The good thing about this show is that we're able to connect people to their perfect match who may live in a different country. I think it's really fun to witness and watch, but for the cast, it was an amazing experience too.
What makes a perfect match in your eyes?
We have experts in our matchmakers who are renowned and know what they are doing. I think finding a good match is more than just looking forward to your usual type. It's time to start looking at things that are better for you and more internal than external. You definitely have to take that into account. Am I going to my usual physical preference or searching for someone who is a good match for me in the long run? It's more than skin deep.
It's interesting to see how things evolve after they come to that conclusion and look past general attraction.
I'm such a fan of Are You the One? that before I found out I was going to be the host I was binge-watching it. Even as a viewer finding out your favorite couple is not a match is heartbreaking. Sometimes you see it coming, and sometimes you don't. Maybe there is something you're not seeing. I think we often navigate the dating space with rose-colored glasses. Having a team of people who are really looking at what could possibly work for you more than just a few months down the line is helpful.
On top of finding love, there is serious money on the line. Meaning a shared vested interest and genuine want to see others find their someone.
For sure. When you're meeting strangers from around the world, they really have to bond together and work together to win this money and be open ears and listen to what their fellow housemates are saying. I think they all had a group mentality being competitive about the money, but really wanting to make real connections and wanting others to have the best experiences. I think it all worked out. But having a million on the line definitely speeds things up a bit in terms of getting to know each other.
What can you say about the challenges we're going to see this season?
The challenges are different than any other season. A lot of the challenges before, I wouldn't say they were surface-level, but they were more about fun. I think this season they are more in-depth in getting to get to know each other and themselves.
How did your experiences with Catfish help in this environment?
I think Catfish has helped me see past the facade in everything in life and different points of view. Just the compassion standpoint and trying to understand people on a deeper level have been something I've gained and have taken throughout my life. Being empathetic to people's experiences and what has led them to date the way they do and attract the people they attract. I've used that here and really understand my cast and got to know them. Aside from what you'll see onscreen, we had an amazing time offscreen too. Me getting to know them and staying after hours. I got to know who they are and what would be a good match for this person. I applaud them for being vulnerable, especially on international television.
How was filming in Spain?
Spain was beautiful. I ate so much paella I can still taste it. It was absolutely awesome being in a different place. It was a completely different experience for me than Catfish. We usually go to a lot of local towns, which I love. But having this international experience really ties into the global aspect of the season. The fun dates they go on. You're going to see watch them go across Gran Canaria and see some beautiful sites.
If you were in their shoes, how do you think you would have done?
You know what that is hard for me to say because I am stubborn. I like what I like. I don't tend to think people know me better than me. But because there is money on the line, and it is a group project. And I like to win, so I would force myself to work as a group to figure things out. At the end of the day, I'm trying to get that money. And true love is also on the line. I would like to think I would make it happen, but it would be hard if I found my boo on the first day. I will say it always ends up biting you in the butt later if you don't commit to the process.
What might surprise viewers about the show?
It's reality TV so people think certain things are planned. But this cast was so honest and so raw and so vulnerable. It really is a real reality. People are really talking about their life experiences, and what they've been through to get to this point. There is a certain level of compassion that I think people should have when watching. I say the same thing about Catfish. Yes, it's entertaining, but these are real people at the end of the day. Yes, they are having fun and having a single hot boy/hot girl summer. At the same time, they are trying to get to the bottom of things. I think people will be pleasantly surprised by how real they are.
From the teaser, we're going to see a few blowups later in the season. What can you tease about how things play out?
I would say the teaser is a little tame. What I saw was crazy. There were plenty of ups, but there were definitely some low lows. We all go through these things. It was really exciting to see this cast work through their personal issues and work together for the ultimate prize of love. Not just money. I watched them grow so much. Even after we wrapped, we've had conversations. I can't wait to see what they do next and which couples end up staying together. It's going to be an exciting ride for sure. There is definitely going to be a lot of drama and a lot of tears. Prepare yourself for that.
When can we expect more episodes of Catfish?
We're still filming the next season. Once I was announced for this show people were wondering if I was doing Catfish still. Of course, one thousand percent. We were just filming yesterday. We are wrapping up filming, and we like to have a certain amount of episodes ready to go before we air so we don't have to take long breaks. People have to keep in mind we film year-round. We're always filming. So if we take a little break, know Nev [Schulman] and Kamie need a little break. It will be worth the wait though.
Are You the One? Season 9 premiere, January 18, Paramount+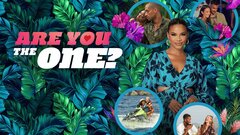 Powered by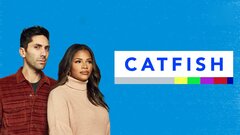 Powered by