'Alias': Michael Vartan & Carl Lumbly Reflect on 'Phase One' Episode, 20 Years Later
When Alias touched down on ABC in 2001, the J.J. Abrams-created series dazzled viewers and critics as a butt-kicking breath of fresh air. Starring Jennifer Garner as spy Sydney Bristow, the action-packed drama boasted not only a female central character but also mythology-heavy storytelling. The show's heart-stopping cliffhangers and hairpin turns left viewers picking their jaws up off the floor.
And no hourlong installment prompted more reaches for defibrillators than "Phase One," broadcast after Super Bowl XXXVII — a victory by the Tampa Bay Buccaneers over the Oakland Raiders — on January 26, 2003. The episode earned Alias its best ratings ever.
A hard-to-fathom 20 years old this month, that episode sees heroine Sydney defeating longtime CIA enemy target the Alliance of Twelve, the sprawling organized crime syndicate she'd been trying to take down…ever since she learned in the series pilot that she was working for the Alliance and not the CIA. That's right: A double agent had been born on day one.
A Bold Grab for Viewers
"I remember reading the 'Phase One' script with extra interest because I knew it was potentially a game-changer for us," Michael Vartan, who played Sydney's CIA handler and love interest Michael Vaughn, tells TV Guide Magazine. "It was going to be the big Super Bowl episode that [could] put us over the top in terms of ratings."
To that end, Season 2's 13th episode brazenly rebooted Alias, with the goal of transforming a cult fave with a rabid fanbase into a bona fide hit. It was a lot to expect of a cool little counterintelligence drama, but the script did its job. Among its highlights were Sydney seducing a dangerous operative while scantily dressed, parachuting out of a crashing plane after a shoot-out, saving her father from the grips of an Alliance baddie
(Rutger Hauer) and finally kissing Vaughn after more than a year of romantic tension. "There were so many twists and divergent storylines coming together," Vartan says. "And who's not watching Jennifer in lingerie? Are you crazy?"
In addition to Sydney's seeming triumph over the Alliance, the show churned out more mind-jarring revelations. Her cover got blown; her best friend, Francie (Merrin Dungey), was murdered and replaced by a doppelgänger; and Alliance boss Sloane (Ron Rifkin) nefariously orchestrated his own organization's destruction. It was a brain-tickling big-picture transformation of the show, as dramatic as one of Sydney's cloak-and-dagger disguises.
Pivotal Plot Moment
At the time, creator Abrams said he'd felt hemmed in by what had become a repeating premise of "good guys posing as bad guys pretending to be good guys." Abrams viewed "Phase One" as a sort of new pilot for Alias.
At one turn, Sydney must save her father, Jack (Victor Garber), from Alliance clutches after their identities are revealed. To do so, she tells Marcus Dixon (Carl Lumbly), her steadfast partner at SD-6, one of the Alliance of Twelve's dozen global divisions, that he's been deceived for years: Convinced he was working for the CIA, he was doing dirty Alliance deeds. Sydney had been keeping the secret since the start of the series.
"Everything he believed about this young woman was called into question," Lumbly tells TV Guide Magazine of Dixon's reeling response. "She was involved in a far deeper game than he was aware. What does that now mean for their relationship?"
As Dixon is led away for questioning, Sydney tells him not to worry. "Don't talk to me," the agent replies sternly. Explains Lumbly: "He feels betrayed. His trust and faith have been used against him."
The revelation, Lumbly notes, reshaped the relationship and the show: "I thought it was a radical move, and shocking for an audience, which made it exciting."
Action and Attraction
The espionage thriller was bursting with betrayals, but adrenaline-pumping action sequences were Alias' hallmark. Vartan recalls Garner, who did many of her own stunts, accidentally breaking a stuntman's nose while filming the episode's jetliner fight scene. "She was mortified," he says.
When the simmering vibe between Sydney and Vaughn boiled over and they shared a smooch amid the SD-6 rubble, sparks from a nearby live wire literally flew. "It was strange shooting that first kiss," Vartan says. "The crew was like, 'Is this actually happening after all this time?!'"
If there was a truth about Alias, which wrapped for good in 2006, it was that you could not fall for everything — or anything — you saw. This episode, more than any other, pulled the rug out from under the characters. Vartan says, "It was like, 'Oh, things are not what they appear — in a very big way.'"
No shock, Sydney seems to have prevailed, but instead, she's fallen into a trap. "This whole thing was a manipulation," Abrams said then.
Promos featuring the buff, lingerie-clad Garner fostered the desired buzz — but in a twist for Alias creatives and cast, ABC cut to a Jon Bon Jovi performance postgame instead of rolling the show's opening credits, delaying the "Phase One" airing until 11pm Eastern time. At that hour, eyeballs were fatigued. The show's 17.4 million viewership was super for the fan-fave spy serial, but not Super Bowl–night sensational. (In 2001, a postgame Survivor episode drew 45.4 million.) But an adoring critic called Garner "the sexiest spy since Emma Peel." People were talking about Alias.
That night, Sydney's co-agent dad told her, in their line of work, "There's rarely an end to the story." True biz. Three years of Alias' twisty turns lay ahead, during which Garner joined the A-list for good.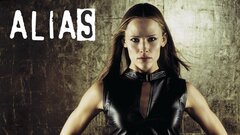 Alias
where to stream
Powered by