Megan Fox Makes 'New Girl's Holiday Bright (VIDEO)
Gravely Bowel Syndrome got ya down? Then New Girl has just the cure tonight when Megan Fox returns as Reagan, the former roomie Nick (Jake Johnson) has been having a long-distance relationship with since she moved out of town.
RELATED: New Girl's Schmidt Needs to Man Up (VIDEO)
In a Christmas miracle almost as baffling as Nick actually landing a smokeshow like Reagan, underpaid educator Jess (Zooey Deschanel) arranges to fly in the woman who has stolen her ex's heart to surprise Nick as his Secret Santa gift. But first she must convince the pharmaceuticals sales rep to hit pause on the job and come play in L.A.
However, Jess may want to be rethink this surprise, because according to our pals at TVLine, it turns out this is the start of a big storyline for Fox, who is set to stick around for at least eight episodes. And that is an awful lot of time for Nick to be distracted from noticing that Jess has the hots for him again.
New Girl, Tuesdays, 8:30/7:30c, Fox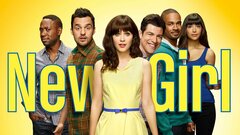 Powered by