'Moon Knight's Ethan Hawke on Shaping the Series' Opening Scene (VIDEO)
Disney+'s latest Marvel drama Moon Knight is the next wild, supernatural ride that you've been waiting for. The series stars Oscar Isaac as the titular Moon Knight – a hero with dissociative identity disorder who showcases multiple personalities, including gentle museum worker and Egyptology nerd Steven Grant and guarded former mercenary Marc Spector.
Marc, and inadvertently Steven, as they are trapped in the same body, serve as the human avatar for the pushy Egyptian moon god Khonshu (voiced by F. Murray Abraham). As they go on their mysterious journey to uncover the truth about Egypt's gods, they'll run up against both helpful friends and underhanded foes.
Their main ally and confidant is Marc's somewhat estranged, Egyptian archeologist wife Layla (May Calamawy). "She's like a modern-day Robin Hood," teases Calamawy to TV Insider in our video interview above. "She's rough and tough and goes after what she wants."
See Also
Plus, they discuss how director Mohamed Diab brings authenticity to the show's Egyptian details.
Does she want a better relationship with her husband Marc, who has been off the grid and away from her as Steven lives out his day-to-day life? "When she meets Steven she's really confused," says Calamawy, of the interesting dynamic. "[Steven's] like an open book and she just feels more nurturing towards him."
As Marc/Steven and Layla learn, there is also a major threat coming their way in the form of Ethan Hawke's Arthur Harrow. This magnetic adversary (who Hawke previously said he molded after cult leader David Koresh) is "a cross between a monk and a doctor and a guru of sorts," says Hawke. "[Arthur is] an extremely idealistic person, who then held his ideals in such high regard that the means always justified the ends."
This is Hawke's first Marvel role, despite a long onscreen career. What drew him to want to play Arthur? "I'd be lying if I said it wasn't Oscar Isaac," says Hawke. "He started talking to me about it and I knew it was a big dare that he was taking to play this new superhero, to create this new character that people haven't heard of, and to do it on such a big scale…and I thought he could use a friend." That's true friendship for you, even if they do play enemies over the series' eight episodes.
Check out our full video interview above with Moon Knight's Hawke and Calamawy above for more insight into the series, including how Hawke helped shape the dramatic opening scene!
Moon Knight, Series Premiere, Wednesday, March 30, Disney+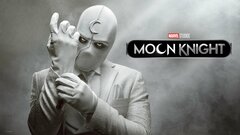 Powered by