Captain James Chambers & Chief Stew Aesha Scott on Taking 'Below Deck Down Under'
There is a new Below Deck spinoff docking from Australia. Below Deck Down Under takes viewers to the picturesque Whitsunday Islands and Great Barrier Reef where the crew of the Thalassa welcome guests during an unforgettable seafaring charter season.
Before the show sets sail on Peacock, get to know the newest (and youngest) franchise captain, Jason Chambers. Plus, find out about familiar face Aesha Scott's (Below Deck Mediterranean) return. This time, he's stepping up as chief stew.
Captain Jason Chambers
Chambers is taking his rise to reality star day-to-day. When the Down Under announcement followed with clips and photos, social media was abuzz about the "hot" new captain.
The Aussie is slowly finding out about the response as he'd been traveling and didn't have internet access for three weeks. "I would be lying if I didn't say I enjoyed it a bit," Chambers said about the recent attention.
One thing the 20-year veteran of the seas appreciates about doing the show is being able to look at his role from a different angle. Chambers was admittedly nervous about having cameras on him at first, but that changed quickly.
"It felt a bit daunting," he said. "Within a minute, things can go wrong with the boat. It put in perspective the next six weeks while I was there. We had charter guests, and a crew we had to get together that were inexperienced with the boat and each other. But the cameras faded away very quickly. I just got on and did my job and treated the charter guests the best Australia had to offer."
Besides Scott, his "eclectic" team included chef Ryan McKeown and bosun Jamie Sayed, and stews Tumi Mhlongo and Magda Ziomek. They were joined by deckhands Culver Bradbury, Brittini Burton and Ben Crawley. Chambers quickly took on the role of mentor for Sayed as he was relatively inexperienced as bosun.
"Usually, we have a longer period to get to know each other. We all found some true growth," Chambers explained. "We really delivered good service to the guests. I loved watching the growth we all found within ourselves….What you will find is I had no choice but to be hands-on from the start, given the size of the vessel and the experience of the crew and everyone stepping up like Jamie. I did pull away during the episodes to hand it over. Each deck crew member had a moment where they had to go through a situation, and came out of it a better person."
As for the charter guests, Chambers won't say much aside from teasing that they are "unique," and it "gets wilder and wilder." He added that "they all made sure to get their best and enjoy the boat. I won't give too much away, but there are a few weddings. We had a pizza party. It was great."
Managing a big vessel and the usual drama that viewers have come to expect from Below Deck is one thing; navigating the shark-infested waters of the Great Barrier Reef is another.
"There were a lot of challenges," Chambers recalled. "Winds come in and out of the marina. We had tide issues, getting in and out for our trips. The timing had to be right. I was talking to the guests and crew about sharks a couple of times. Within two seconds I saw a hammerhead shark come from the surface of the water. So it is real. They are there."
Chief Stew Aesha Scott
The Below Deck Mediterranean fan favorite was excited to return to the franchise, this time taking on more responsibility and leadership than ever before. Past experience as second stew prepared the twentysomething well.
"I think the biggest thing coming back was feeling the pressure of being able to perform," Scott said. "Everyone loved me so much on seasons 4 and 5 on Med. I thought I would have so much more to think about and to do. I was hoping I could also bring that 'silly Aesha' that everyone fell in love with in the beginning. You can't change your personality though."
The Kiwi went in looking to bring her authentic self. She has seen firsthand how others go on these shows trying to be someone else, with it not going well.
"You can't go in freaking out about making mistakes. I knew I made some mistakes, but that makes better TV. You have to own it. Being totally yourself and not closed off. If you do mess up, it's great TV."
Scott also helped Chambers acclimate to the world of reality TV. They each found similarities in personality and humor.
"We just vibed and it was nice to have a friend right from the start," she said. "As far as his captaining style, he is very hands-on, which I love. He was constantly doing decorations, taking out the rubbish and doing the dishes. Most captains I worked with kind of stay in their wheelhouse. It was a new experience for me. It really made a difference."
Still, it wasn't always smooth sailing on Down Under for Scott. She clashed early on with Chef McKeown, who had a very particular way of doing things.
"There will be drama in all the different areas on the boat. It's one of those things I'm not surprised about because I don't think I've ever worked with a chef that was easy," Scott said. "You really have to watch what you say around them. With that situation, it's all about learning how to manage people and communicate. There were frustrating times, but I try to view it as growth. That's tricky on a super-yacht where it's about the guests and what they want. It's what everyone has to understand."
This particular iteration of Below Deck holds a special place in Scott's heart, a little slice of paradise not too far from home. Having only been to Sydney and Melbourne, she was amazed at the stunning scenery of Northern Australia.
"For the most part, it was absolutely beautiful," Scott said. "Taking the guests down diving in the Great Barrier Reef was just amazing. I think a big point of this season was trying to get the guests to connect with nature and see the beauty Australia has to offer. I felt lucky to be a part of it."
Below Deck Down Under premiere, March 17, Peacock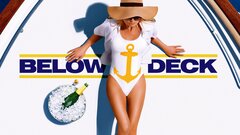 Powered by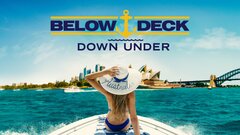 Powered by