Aidan Turner's 'The Suspect' & 'Showtrial' Coming to Sundance Now & AMC+
Viewers in the United States who have wanted to see two of Britain's ITV Studios' dramas are in luck: They're coming to AMC Networks' streaming platforms.
The Suspect and Showtrial will premiere exclusively on Sundance Now and AMC+ in the United States later this year. Sundance Now will also be the exclusive home for The Suspect in Canada.
The Suspect, a five-part thriller based on Michael Robotham's bestselling novel, stars Aidan Turner (Poldark) as Joseph "Joe" O'Loughlin, who, it seems, has the perfect life: a beautiful wife, a loving daughter, and a successful career as a clinical psychologist. "But nothing can be taken for granted. Even the most flawless existence is only a loose thread away from unravelling," the logline teases. "All it takes is a murdered girl, a troubled young patient and the biggest lie of his life. Caught in an increasingly complex web of deceit, Joe risks everything as he embarks upon a search for a killer that will take him into the darkest recesses of the human mind."
It also stars Shaun Parkes, Sian Clifford, Camilla Beeput, and Adam James. It is written by Peter Berry and directed by James Strong.
In the courtroom drama Showtrial, a murder trial grips the nation, placing the victim and the accused and their families at the heart of a media storm. After Talitha Campbell, the estranged daughter of a wealthy property developer, is arrested in connection with the disappearance of fellow student Hannah Ellis, High Street Criminal Solicitor Cleo Roberts is called on to represent her. Talitha then refuses her father's help after being charged with murder and instead relies on Cleo to lead her defense against a prosecution weaponizing gender and social privilege against her. But is Talitha a damaged scapegoat or callous killer?
The series stars Tracy Ifeachor, Celine Buckens, and James Frain. The drama was written and created by Ben Richards and directed by Zara Hayes.
"We are delighted to announce this content deal with our partners at Sundance Now," Rob Kaplan, Senior Vice President Sales, US & Global Accounts, ITV Studios, said in a statement. "World Productions has been producing some of the best and most successful British dramas of recent years and it is great to see The Suspect and Showtrial also travelling to wider audiences around the globe."
Shannon Cooper, Vice President, Programming, Sundance Now, added, "we're delighted to grow our relationship with ITV Studios with these sought-after titles packed with riveting storylines, breath-taking performances and top-quality production."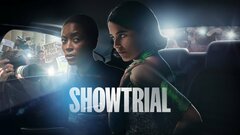 Powered by
Powered by