Tony Khan Teases Next Big Signing Ahead of Reveal on AEW 'Dynamite'
Tony Khan is a student of the game. He observed the biggest moments in pro wrestling, looking at what worked. And one thing fans have always liked is a good surprise. The All Elite Wrestling president has developed a representation to provide those. His track record so far is pretty good, securing top names from Sting to CM Punk to Bryan Danielson to Adam Cole.
This week on Dynamite the leader of the buzzy company teased a new acquisition will be revealed. The free-agent signee takes on Private Party's Isiah Kassidy in a qualifier for the "Face of the Revolution" ladder match. Considering the names on the open market these days, there are some exciting prospects.
We tried our best to gather intel from Khan on who is walking through the "Forbidden Door" next.
What else can you tell us about this new signing?
Tony Khan I'm going to promise the fans we'll have a great "Forbidden Door" moment in the show for an episode that also includes Hangman Page defending the world title against Lance Archer in a Texas Death match. It's a huge night. One of the headline moments and one of the most anticipated moments will be the reveal—who signed a contract with AEW. There has been a lot of speculation. People are anticipating the big reveal. I'm looking forward to it.
How many people know who this person is? It's hard to keep a surprise these days.
Only a handful of people. Very few. I think it's best kept that way until Wednesday night to let that anticipation continue to build. We have more surprises and fun moments along the way. It's going to be a lot of great things Wednesday on Dynamite.
This incoming star's first AEW opponent is Isiah Kassidy. A major opportunity for him as well.
Isiah earned it. He is one half of a great tag team Private Party that has done really well in big matches. They have continued to keep a high standard of excellent wrestling matches. Isiah really demonstrated being a great singles wrestler and [it] is something he had almost no experience [with] before coming to AEW. He wrestled Chris Jericho in Daily's Place in 2020 on Dynamite, and it was Isiah's second singles match ever. Recently Marq Quenhad had an injury so Isiah did do a series of singles matches along the way. I continue to be impressed by Isiah in singles matches. I thought Isiah was an awesome opponent who I trusted to deliver in a big spot.
Over time, promoters have made promises of big surprises, and a lot of times, fail to meet anticipation. How hard is it for you to balance expectation with reality?
It's a great question. I try to listen to the fans and pay attention to audience feedback. I think it helps because it gives me some idea of what the fans in a larger sense want to see. Different fans have different ideas about the different wrestlers they like. You can gauge the excitement around a certain wrestler or match or moment. I believe people will get very excited about the debut of this new signing is. This is somebody wrestling fans really respond to.
Now that the company has been around for three years, deals are slowly coming up for renewal. What goes into deciding whether you are offering a new contract to talent or just letting it play out and cutting ties?
When we started a lot of people had contracts that were a couple of years long and a lot of them are coming up. I have really tried hard to be very considerate of the people on the roster, especially going through the pandemic. That encompassed a long period of time where we were still in our first year of television and going into our second. I kept a lot of people under contract even though I wasn't necessarily using them on television because I wanted them to still have paying work, which was hard to come by for wrestling during the pandemic where there weren't any independent shows. Really only two places were running and the other place was cutting people left and right. I did want to give some job security to people. Now with so many wrestlers coming in, I can't renew all the contracts. I've had to make some tough choices based on ability, fan response, or both. I try to maintain the best roster I can for the company and fans.
Fans were happy to see the return of Jon Moxley. What I love about his run so far is he has been working a wide assortment of talent.
When I sat down with him and put together these matches, they were all people he was excited about wrestling. They are all people that I thought would be a great match for him and the fans. For Ethan Page to be the first person to wrestle Jon Moxley in his return was a big deal. I think Ethan Page is a real pro and can be trusted in that spot. Then Anthony Bowens I thought would be an excellent opponent. They worked together in tag matches before. Bowens has done really well in singles matches with several people. Wheeler Yuta is someone I thought would really benefit from facing Moxley because last time he was beaten in 90 seconds or so. This time was very different. It was competitive. He came through.
We're on the road to Revolution pay-per-view. Not sure about Cody Rhodes' future. Adam Cole is expected to be a big part of this show. Looks like we may see something from Bryan Danielson and Jon Moxley. As you are formulating this card, how would you describe the vibe we're going to get?
There have been some big reveals and big moments just in the past week where this is going to make you start to feel the direction on the road to Revolution. You alluded to some of the stories. I don't want to say what exactly the matches will be before they're announced, but you touched on some of the issues that will lead to some of the matches on that show.
Fair enough.
There are going to be twists and turns. For example, I was very pleased with the fan response to the backstage segment with Mercedes Martinez and Dr. Britt Baker, Jamie Hayter, and Rebel. It was a nuanced segment I was planning for months. We didn't show it to the live crowd because I wanted them to have something to make the episode special for them. Mercedes Martinez and Thunder Rosa ended in a disqualification. It was the first DQ ever on Rampage. There was the reveal that it was Britt who paid Mercedes to take out Thunder Rosa. Britt is a person who holds a grudge. Everybody played their part perfectly. There is a lot of exciting stories ahead.
AEW Dynamite, Wednesdays, 8/7c, TBS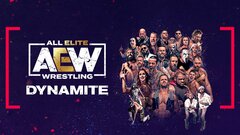 Powered by
Powered by