'9-1-1: Lone Star': Jim Parrack on That Shocking News for Judd & What's Next
[Warning: The below contains MAJOR spoilers for 9-1-1: Lone Star Season 3, Episode 5 "Child Care."]
Congratulations, Judd Ryder, you're a father … again?!
In the latest 9-1-1: Lone Star, Jim Parrack's firefighter finds out that he has a teenage son, Wyatt (Jackson Pace), when the kid tracks him down. It turns out that years ago, Judd and Wyatt's mother, a barrel racer, met at the rodeo in 2005 and didn't even exchange names. So now Judd's family — his wife, Grace (Sierra McClain), and their daughter, Charlie — is growing.
Parrack tells us how Judd's handling the news and teases what's ahead.
What was your reaction to finding out Judd has a teenage son?
Jim Parrack: Tim Minear told me ahead of time and my first reaction was, "I wish I had known that." He said, "No, no, no, Judd didn't know." So I kind of misunderstood what he was saying. And I was like, "Oh boy, that is really, really good storytelling. They give us a brand new child and a brand new little family and then the very next week say, hey, what about the past?" I thought, "That's going to be a challenge. It's going to be fun."
It seems like the shock hasn't worn off yet at the end of the episode for Judd. So how is he feeling about Wyatt and everything?
That was one of the questions I posed to myself and instead of trying to come up with an answer before we shot it, I thought, why don't I let this episode inform that? Because I think in real life, you would just be kind of at, "I don't know exactly how I feel about this." Over the course of the episode, you get to see Judd even come to believe that this is real and it's not some scam or some con. My guess is there'd probably be some instant connection and then there'd be a lot of ground you have to cover and make up and find out who you really are to each other. We get an opportunity to do that a little bit in Episode 6.
Grace has taken the lead so far when it comes to Wyatt —
Thank God.
— getting his number, calling his mother. How much does Judd need that right now?
I would call it merciful and generous of her to take the lead.
How are we going to see Judd step up going forward?
By the sixth episode, I'm initiating my own efforts to have my own relationship with Wyatt.
The logline for that includes, "In an attempt to bond with Wyatt, Owen [Rob Lowe] and Judd take the teen alien hunting, but their search takes a different turn when they find two dead bodies." What can you preview about how that goes?
I think that's about as far as I can go with it except that I can tell you that I definitely go to Owen to get some guidance on how to be a father of a young man and that's kind of how the adventure kicks off.
I was hoping to get that because I've loved the conversations that those two characters have had since the beginning of the series.
I do, too. Rob and I shot a good one last night until one in the morning or something, but we were looking at each other and we were like, oh, this is one of those cool Owen and Judd scenes where we get to kind of have a little private moment and be vulnerable and connect, and it's fun.
It's not like Judd knows many people that can turn to who have raised a kid through the teen years and he knows T.K. [Ronen Rubinstein].
He raised a kid that, for all the problems he had, survived them. He raised a young man that was able to survive the monsters within him and a lot of change and he was able to raise somebody that can act heroically when they need to and everything. Owen's a good dad. He's a good guy to go to and say, "Hey, help me with something for a minute here. I'm totally at a loss for how to do this." He's a good resource.
Will Judd have any advice for Owen about Catherine [Amy Acker]?
I got some advice for him at some point.
What does Judd think of Wyatt so far? We've only gotten that introduction, and he was so nervous and soft-spoken.
Jackson, the kid that they cast, is a really, really wonderful guy. He's a really sensitive, good actor. I mean that in the best way — I think good actors are sensitive, and he's got that, meaning these scenes that we're doing, even though they're made up, they get to him and he gets involved personally. He wants to be a filmmaker, and he's just a really sweet kid. I really like this guy. They couldn't have cast a better guy. Part of the fun was just accentuating how different we were. There was kind of some maybe impromptu comedy that seemed to be coming out of how difficult it is to make an easygoing connection.
Something this episode does so well is how Judd and Grace handle this surprise and communicate with each other, including her sharing how she feels. Are we going to continue to see that strength in their relationship?
Yes. I think the foundations of that relationship are supernatural strength, and oftentimes she's injecting me and infusing me with, "Hey, hey, hey, don't get worldly. Don't get fearful. We're taken care of from on high." Then there's some opportunities this season where I get to kind of do that for her as well. She gets me over the hump. And then from there, Judd really wants to be a good dad. She helps him get to the point where he is like, "OK, I can raise my family and still be of real value hopefully to this young man."
Let me just say I'm so happy that we didn't see Judd try to hide any of this from Grace because that can happen on TV shows. And it was obvious that he was going to tell her.
That's right. Tim Minear told me something when he was telling me about the episode. He said, "Look, this isn't a scandal. This is a real family problem. I'm very, very protective of Judd and Grace." I said, "Well, good, man. I'm glad." I'm glad you get to see two people handle things in a healthy way, 'cause out here on earth, that's not always an easy thing to do. And as you said, on TV, you rarely get to see it because there's not a lot of drama typically in people going about their lives in healthy, productive ways. So usually you see a meltdown and then everybody has to rebuild. But I thought this is a fresh take on a healthy couple doing the right thing in the face of a real challenge.
How much are we going to see Wyatt? How much is Judd going to see him? Is that very much up in the air?
At this point, I think so.
How is Judd feeling about Billy [Billy Burke] after everything? They do have a long history and he did help Grace while she was in labor…
It's tough. One of the things I think Judd is learning from Grace is that you can forgive people, but you still probably need to make an adjustment and not forget. Just being married to that woman, Judd would be the kind of guy who would say, "OK, I don't want to walk around with this resentment towards somebody I used to love. I want to lay that down. On the other hand, this dude can't come around my 126 family, and this dude can't come around my real family. This isn't somebody that can have the keys to those things anymore."
What else is coming up?
Just as a show and as a group of people, I think we're getting better together. I think we're getting stronger in our parts. It's not just the cast. The crew's really finding a rhythm and there's no way that we're not going to just be improving these stories as we tell them because we're kind of hitting our stride. The first two seasons are great, but I think we're really starting to understand what's underneath this story and what's underneath this story is the people telling the stories have to make them personal, and so the cast is up for that. The writing room is up for that. We're trying to tell personal stories in an entertaining way that connect to people. I think we're probably poised to do that better than we ever have been before.
9-1-1: Lone Star, Mondays, 8/7c, Fox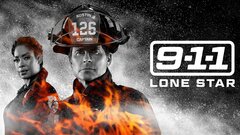 Powered by