The Walking Dead Season 5: Andrew Lincoln and Norman Reedus on Terminus, Carol and What's Ahead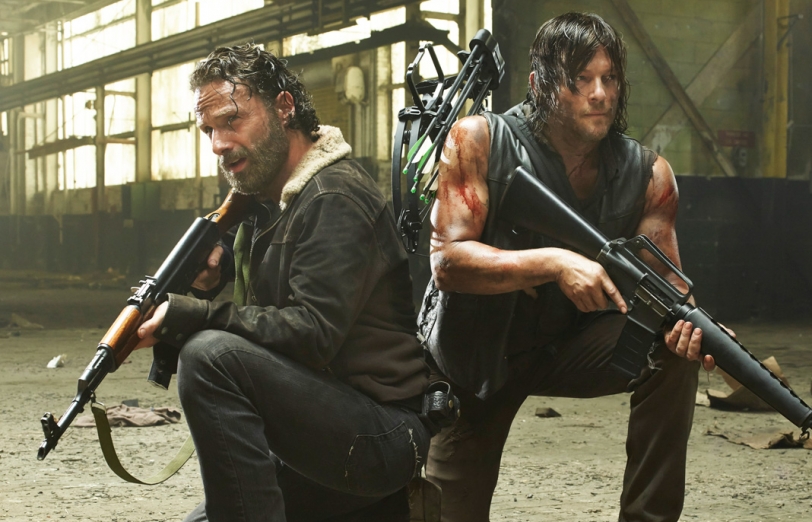 To any outsider setting foot on the Griffin, Georgia, set of The Walking Dead, the sense of heightened security and secrecy is immediately apparent. Production assistants string giant tarps across the entrance to a small alley, shielding any on-camera action from the eyes of dozens of gawkers who have parked themselves across the street in the 90-degree heat holding homemade signs professing their love for AMC's hit zombie drama. ("I <3 Daryl Dixon" is one popular sentiment.) Brief glimpses of the show's stars elicit the kind of eardrum-tearing screams usually reserved for the latest boy band.
It's a scene that perfectly illustrates the growing influence of The Walking Dead, which burst onto TV in 2010 with 5.3 million total viewers (the network's highest-rated premiere at the time) and, last March, for the Season 4 finale, drew 15.7 million total viewers and a staggering 8.0 rating in the 18-49 age bracket, making it the No. 1 show on television in the all-important advertiser demo. In addition to a successful after show, The Walking Dead has even spawned a companion series featuring a different setting and characters, expected to debut in 2015.
More ratings records will likely be shattered when The Walking Dead's fifth season kicks off on October 12. But the confidentiality surrounding the new episodes is also in full effect when talking with the show's stars. "We're not allowed to say s–t!" says Andrew Lincoln (who plays former sheriff and current group leader Rick Grimes) with a wry smile. However, a few tidbits can be revealed. After the evil Governor (David Morrissey) destroyed their prison sanctuary, the fractured band of survivors followed railroad tracks to Terminus, a haven that promised "Those who arrive survive." The premiere picks up immediately after last March's cliffhanger, which found the group imprisoned in a train boxcar by the community's mysterious residents. Viewers will be introduced to new characters from Robert Kirkman's comic book series, on which the show is based — including a priest, Father Gabriel Stokes, played by Seth Gilliam, formerly of The Wire. And in a throwback to Season 1, the majority of the action in the first half of the season will be set on the road in and around Atlanta.
The core of the series is still defined by the physical and emotional journeys endured by these characters at the end of the world. This season, Lincoln, along with costar Norman Reedus — who plays the crossbow-wielding biker Daryl Dixon — will share the leadership role. In mid-July, over a lunch of grilled shrimp, beets, and watermelon juice, the two actors gathered in Lincoln's trailer during a break from filming to discuss the profound friendship between their characters, preview the intense premiere, and speculate on their own fates as this apocalyptic universe grows even more dangerous.
So let's get the burning question out of the way: What exactly is Terminus?
Reedus: It's a nightclub!
Lincoln: [Laughs] A giant discotheque! Well, we're just in a box. Even though we're in the worst jeopardy we've been in for a long time, we're probably at our strongest. The last speech in the boxcar was a very important call to arms and a show of intent. I think people generally won't be disappointed with the opener.
Rick and Daryl pledged their brotherhood in the Season 4 finale. How would you describe their bond this year?
Reedus: Daryl looks at Rick as the brother that Merle [Michael Rooker] wasn't. To have somebody he looks up to and has a mutual respect for — someone he can trust — is a big deal for Daryl.
Lincoln: If it weren't for the apocalypse, they would probably be enemies. It's rad. I love their relationship. I think it's a true brotherhood. If you stand beside Rick and Daryl, then you're family; it's that simple, that black-and-white. But if you're not there, I'm sorry, you're in trouble.
Reedus: It's been such a smooth evolution. When I first came on the show, it was Rick and Shane [Jon Bernthal] looking at each other for answers to make decisions, and then Daryl slowly became part of it.
Lincoln: [Daryl] is incredibly important in survival. He's the go-to guy and the tracker. You are defined by your usefulness in this world, and he is ridiculously useful. But the last time Rick called somebody a brother, it was Shane. That's not saying it's all going to be roses. [Laughs] It doesn't guarantee s–t! But there is something incredibly strong between these two guys. He's always saved my ass. It's embarrassing.
Reedus: And you're always getting us in trouble! [Laughs]
Lincoln: I'm so indebted to Daryl Dixon!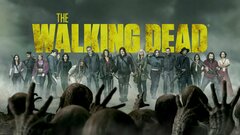 Powered by