Soap Stars Ricky Paull Goldin and Daniel Cosgrove Team for Discovery Life Reality Series 'Project Dad' (VIDEO)
On the new family-friendly reality series Project Dad, three hard-working moms take a well-deserved break for 48 hours and let their men stay home and take care of the kids. Chaos ensues, of course, but also lots of sweet bonding and more than a few grab-a-hanky moments.
The project, from actor-producer Ricky Paull Goldin (The Bold and the Beautiful, Guiding Light) and Chicken Soup for the Soul Entertainment, premieres Tuesday, November 1, 7/6c, on Discovery Life, and will also air on TLC beginning in January 2017. The three Mister Moms of Season 1 (pictured above) are Days of Our Lives star Daniel Cosgrove, comedian Donnell Rawlings (Chappelle's Show) and famed disc jockey DJ Skribble (MTV's TRL).
Here's an exclusive look at the show's sizzle reel: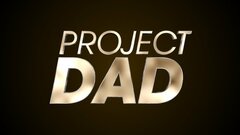 Powered by