Wyatt Cenac Talks 'People of Earth', Sci-Fi Preferences and Fake Journalism
Things got weird at New York Comic Con on Friday when TBS premiered the pilot of the new alien abduction comedy, People of Earth.
Produced by The Office's Greg Daniels and Conan O'Brien's company, Conaco, the show follows accomplished investigative journalist Ozzie (Wyatt Cenac), as he gets to know an alien abductee support group for what begins as a human interest fluff piece at a Huffington Post-esque news website. Things get more complicated for Ozzie from there as he learns about the three major alien types— bro-ish Reptilians, glassy-eyed Greys, and dreamy Whites. When the stories of the "weirdos" at the Star-Crossed support group start to sound strangely familiar to Ozzie, he begins to suspect that he's had an alien experience of his own.
We sat down with former Daily Show correspondent Cenac to discuss his move away from the writers' room to star in People of Earth, his return to fake journalism on TV and more.
Since you were on The Daily Show, you haven't done a lot of scripted TV. What was it about this show that got you through the door?
Well, it's not for lack of trying. My goal when I left The Daily Show was to continue working in television and I was hoping to do projects that I could create for myself. Wanting to do that and other people being willing to let you do that are two very different things. This show kind of hit at a moment where some stuff I was trying to move forward was kind of in limbo, and Greg Daniels had approached me and reached out to me about doing this. Greg and I had worked together on King of the Hill, and the show creator, David [Jenkins], had reached out a bunch, but I had actually said no, because I was much more interested in trying to do my own things. It was Greg who asked if I would do this, and having known Greg for a while and having worked with him, I kind of did it because he asked.
RELATED: Wyatt Cenac on Night Train and Leaving The Daily Show
You were a writer on things like The Daily Show and King of the Hill. How involved are you behind the camera on People of Earth?
Not much. I think I got involved with things more on set, whether it was suggesting some line cuts to shorten a scene or things like that, or trying to make sense of something that maybe didn't make a ton of sense once we got it on set. I was involved in that regard, but prior to that I didn't really have much input in the process.
Was that tough for you, not to have that input earlier on?
It was really tough. It's a very strange thing, because yeah, to me what I enjoyed about working at The Daily Show was that I was a writer and a performer and I was getting to do both of those things, and so on some level this felt kind of like having a skill and being told not to use that skill. So it was a real challenge, and it's a real challenge to see scripts come in and also to know the fun of being in a writers' room. I did get to go to the room one day to see the writers all tossing out ideas and to kind of pitch out ideas with them. It was fun. So yeah, this was definitely out of my comfort zone.
In the People of Earth pilot, Ozzie comes to the realization that he may have had an alien abduction experience. How does his personal journey develop from there?
I don't mean this in a negative way, but I don't think he has that much of a journey. He's not too far, by the end of the season, from where he was at the end of the pilot. I think there are so many characters in this show that need to get introduced and serviced, and so I think Ozzie whether intentionally or not, kind of stays tonally constant. Maybe because there's other stuff happening at all times. He ends up being a little bit like the police officers on Law & Order, where you never really saw their lives because you had to get drawn into the world around them. I think to some degree, I would place this character as closer to that. I don't know if we really knew much about Jerry Orbach's character after his run on Law & Order, and I think there's a little bit of that with this character, too. The hope is to take the other characters on a bit more of a journey.
RELATED: TBS Orders People of Earth, A New Comedy from Conan O'Brien and Greg Daniels
Are you a big fan of sci-fi shows and movies, in general?
Yeah, I loved Star Trek. As a kid I watched The Next Generation, and I loved it, but the original series, I think, I just find more fun. It's something that I can watch all the time. I think like any kid of my age bracket, Star Wars was one of those things that I was drawn to. But also, I liked a lot of animated stuff, so I would watch Robotech and I liked Voltron a lot. Anything science fiction or superhero related I would get drawn to. I loved comic books. I was a big Batman fan and I still enjoy Batman. Whenever any of those movies come out, I usually try to go see them. I still haven't seen Suicide Squad though.
Critics haven't been too kind to Suicide Squad.
That's the thing. I feel like I enjoy the DC television stuff more than I enjoy their movie stuff, and then I enjoy the Marvel movie stuff more than I enjoy their TV stuff.
People might be used to seeing you play a journalist because of your time on The Daily Show, and on this show you play a journalist as well.
Yeah, I'm starting to get typecast.
Is that intentional— something you've gone back to specifically— or was it more of a coincidence?
No, I think it was just a coincidence. My guess is that David, the show creator, probably saw me playing a fake journalist on The Daily Show and thought, "Oh, this show needs a fake journalist, let's get that guy." It's weird. I don't do a lot of acting, but I think in the stuff I've done, it's either been playing a journalist or a comedian. I did Sleepwalk with Me, I think I played a comedian, and there was some other movie I did where I played a comedian in Brooklyn. So I think I've got two speeds. I can play a comedian or I can play a fake reporter [laughs]. I don't know if I could pull off neurosurgeon.
People of Earth, Series Premiere, Monday, October 31, 9/8c, TBS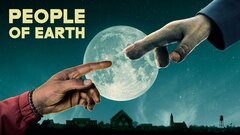 Powered by