7 Memorable TV Acts of Betrayal on the Ides of March (PHOTOS)
On March 15 in history, known as the Ides of March, Julius Caesar was murdered by members of his Senate.
Fast-forward a couple thousand years, and TV dramas have made backstabbing an art: Tony Soprano, Walter White and Cersei Lannister have all stuck metaphorical daggers in loved ones.
To mark the day, check out these other small-screen betrayals in the gallery above.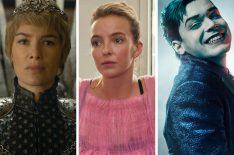 See Also
Villains. Sometimes we hate them, sometimes we love them, and sometimes... we hate how much we end up loving them.