7 Reasons to Start Watching 'Schitt's Creek'—If You're Not Already Obsessed (PHOTOS)
"Ew, David!" "Fold in the cheese." "The pedals make it move more!" "You're my Mariah Carey."
If these quotes don't at least make you smile, do yourself a favor: Sit down, open Netflix and start watching Schitt's Creek.
There are many reasons this splendid sitcom was nominated for four Emmys this year. To offer a brief overview, the show is about formerly wealthy people who lose everything and end up living in a tiny town called—you guessed it—Schitt's Creek. It's a program that abounds with well-written laughs, heart and haute couture, with nuanced character development that rivals many hour-long dramas.
With its fifth season now streaming on Netflix and the sixth and final batch of episodes airing next January, now's the perfect time to invite Johnny (Eugene Levy), Moira (Catherine O'Hara), David (Daniel Levy) and Alexis Rose (Annie Murphy) into your life. Here are seven reasons we think you won't regret it.
See Also
After the Pop TV series' four Emmy nods, we celebrate with a look back at Moira's best looks, with some inside scoop from O'Hara herself!
The sixth and final season of Schitt's Creek premieres Tuesday, Jan. 7, 2020, on Pop TV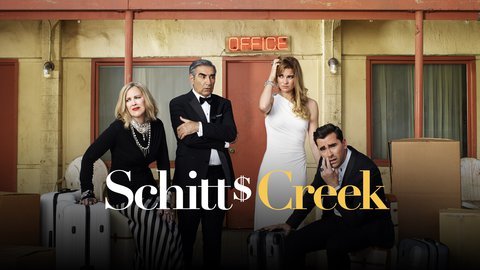 Powered by