Cheers & Jeers: A Stellar Orlando Salute, 'Bachelorette's Cry-baby and Jesse Williams' Winning Speech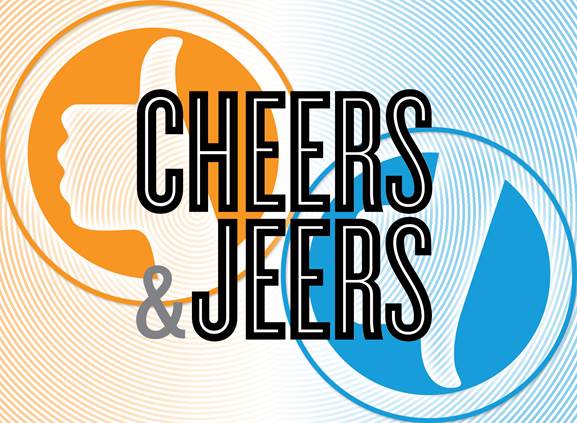 Cheers & Jeers is a safe place to shout about TV's recent hits, misses and ever-lovin' messes! Share your opinions in the comments below.
Cheers to Jesse Williams for Being Awesome
Accepting the 2016 BET Humanitarian Award for his continued efforts to furthering social change, Grey's Anatomy hunk Jesse Williams dropped truth bombs about equal rights, police brutality, cultural appropriation and institutionalized racism across the country in a speech that was both magic and real. And speaking of…
RELATED: Read More Cheers & Jeers
Cheers to the BET Awards' Royal Salute
Jennifer Hudson took "Purple Rain"—and the crowd—to church (in some Prince-inspired perfection by Project Runway champ Christian Siriano, no less), while the late R&B genius' bestie Shiela E. led a rousing mashup of his hits with a passion clearly fueled by their longtime friendship. We should all be so lucky to have someone sing our praises so ferociously.
Cheers to Maya & Marty's Madcap Combo
At first, the idea of another NBC variety show had us popping Xanax to blur the memories of that Best Time Ever atrocity. Then we got a taste of these two and the only happy pills we needed were to stay awake through America's Got Talent every Tuesday night for a 10pm/ET treat. Whether it's Rudolph channeling Melania Trump or Short's still-offensive (in the best way) Jiminy Glick, this one is weirdly random in its skits, often uneven when it comes to musical moments and yet always interesting as a whole. Well done, M&M!
Cheers to Dead of Summer's Killer Kickoff
With horror having such a TV moment these days, we can't believe it's taken this long for us to get a summer-camp creepshow. But just maybe, the wait was worth it? In the Freeform drama's series opener, we got just hints of what is up with Camp Stillwater's sicko past, a pileup of off-able counselors (and one hot deputy, hello!) and enough supernatural chills to keep us coming back. Probably with the lights on, however. Because honestly, we can't take too many of those eerie Tony Todd jump-scares!
Cheers to Ryan Murphy's true American horror story
Talk about using your powers for good. The über-producer ransacked his iPhone's Contacts for a stellar list of stars—including Lea Michelle, Matt Bomer, Jamie Lee Curtis, Chris Pine, Gaga, Jane Fonda—for his best work since Season 2 of Nip/Tuck: A powerful tribute to the 49 victims of the Orlando massacre for the Human Rights Campaign.
Jeers to Showtime for a Dreadful surprise.
You know, a little advance warning about that series finale would have been nice, gang. You can't just end Penny Dreadful's third season with a major death and then be all "We out!" Although, if any show can get away with ghosting, it was this macabre gem.
Jeers to The Bachelorette's Weak Baby James Taylor
Ugh. This guy went from curly-topped fave to churlish sad sack in record time by first playing the "I'm not as hot as the other guys…wahhhhh" routine, then by trying to make Jordan look like a d-bag with a complaint that the guy is "entitled." Why, because Aaron Rodger's coif-blessed brother Jordan insisted on playing a card game by the rules? Needy is not sexy, bud. And neither is using pity as a way to keep JoJo's attention.
Jeers to a Drew Barrymore talk show
There are rumblings that the actress may headline a syndicated chatfest next season. Or is that the sound of our hearts breaking that she has been reduced to this?