Jimmy Kimmel Shows 'Presidential Election Version' of 'Captain America' Trailer
It's less than a month now until the eagerly awaited theatrical premiere of Captain America: Civil War, the latest entry in the incredibly lucrative and engaging—and increasingly intertwined—Marvel Cinematic Universe. The film will ultimately pit "Team Cap" against "Team Iron Man" in the titular civil war over how superheroes should be handled in a society that has increasingly become tired of their destructive battles, albeit battles that are usually in service of saving the human race.
But such serious issues were not on hand last night on Jimmy Kimmel Live, which largely captured the fun of the movie in a variety of ways. Kimmel started the show by stating that "there are some interesting parallels between this presidential election and the movie Captain America: Civil War." He then went on to screen a hilarious fake trailer for the film, with Bernie Sanders taking the part of Captain America, and Donald Trump donning the Iron Man armor.
Later, a few of the actors playing members of Team Cap—Chris Evans (Captain America), Anthony Mackie (Falcon), Sebastian Stan (Bucky Barnes/Winter Soldier) and Paul Rudd (Ant-Man)—visited to introduce a new clip from Civil War. (One of the nice things for Kimmel, I'm sure, is that with ABC and Marvel all part of the same happy corporate synergy, he can grab scoops like this.)
The brief clip showed Hawkeye (Jeremy Renner) introducing Scott Lang/Ant-Man to Cap and the other Avengers, before the four actors chatted with Kimmel. Being members of the same "team," Kimmel asked the group if they could answer personal questions about another member. One of the highlights were finding out what Disney animated film Chris Evans could sing all the tunes from (Sebastian Stan correctly guessed The Little Mermaid, though Evans admits that several films could be the correct answer).
There was other joshing and joking among the obviously well-bonded cast members, and before Kimmel wrapped things up, he brought out action figures representing each of the characters. They all looked pretty cool and impressive, but Rudd's incredibly tiny Ant-Man figure (which is listed as a "choking hazard" on the box) got the biggest laughs.
The guys were all fun and likable enough to put you solidly on Team Cap. But we wonder if Team Iron Man will also get its say on Kimmel. Given that ABC/Marvel synergy, I'd say the odds are good.
Jimmy Kimmel Live, Weeknights, 11:35/10:35c, ABC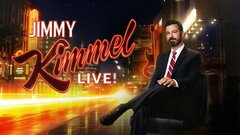 Powered by