What's Worth Watching: The Oscars, 'The Walking Dead ' and 'Downton Abbey' for Sunday, February 28
The 88th Academy Awards (7/6c, ABC): This could be one of the longest nights ever for a Hollywood already shamed by the #OscarsSoWhite controversy, as Chris Rock (who previously hosted in 2005) returns as a most appropriate MC and grill-master. Even those planning to boycott this year's ceremony, protesting the lack of minority representation in the acting categories, will likely peek in to see how Rock takes the movie industry to task in his opening monologue. May the force be with him—wait, you mean Star Wars: The Force Awakens wasn't even nominated as best picture? If your stamina isn't entirely exhausted by the time the last awards are handed out—odds favor Leonardo DiCaprio and The Revenant—you may want to stay up late for Jimmy Kimmel Live: After the Oscars (after local news except on West Coast at 10 PT), to check out the late-night comic's reaction. Ben Affleck will be there, and maybe even "Oscar loser" (Kimmel's words) Matt Damon.
The Walking Dead (9/8c, AMC): The Oscars faces another ratings challenge, because the popular zombie-rama isn't taking the night off. (Take that, Mad Max: Fury Road.) When last we saw Rick (Andrew Lincoln), back from his road trip and snuggled with Michonne (Danai Gurira)—at last—he was startled out of bed, about to be reminded once again that Alexandria isn't the safe haven he has pledged to make it. More tough choices will have to be made.
More Manners of Downton Abbey (9/8c, PBS, check local listings at pbs.org): Delaying Downton's grand finale by a week so as not to compete with the Oscars, PBS trots out the beloved series' historical advisor, Alastair Bruce, for another special examining how the show recaptures a long-ago era's protocols and behaviors in painstaking detail. Crikey, that mustn't be easy!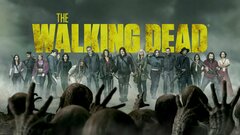 Powered by