'Bold and the Beautiful': Wayne Brady Talks Making His Daytime Debut as Reese Buckingham
Famous faces pop up on soaps all the time, but the multi-faceted Wayne Brady isn't just going to do a mere cameo on The Bold and the Beautiful when he premieres on the show November 30.
The Emmy-winning performer is playing series regular Dr. Reese Buckingham, father to Zoe (Kiara Barnes). The dynamic between dad and daughter will unfold during Brady's tenure on the show. And might romance blossom between Reese and Taylor Hayes (Hunter Tylo)?
After a long day of taping at the half-hour sudser, Brady got on the phone with TV Insider to talk about how his joining B&B came to be, how performing in Kinky Boots on Broadway affected his life, and his plans for the future which include more Let's Make a Deal, another season of Whose Line Is It Anyway, writing his autobiography, and more. Read on to get the scoop!
How did your joining B&B come about?
Wayne Brady: Maile [my daughter, who recurs as Tiffany] was there to tape a scene [in October] and I was there, as her dad, to watch. I saw what a great time she was having and I thought wouldn't it be cool to appear on the show and have a scene with her? Later, I was talking to Bradley Bell [executive producer/head writer] and said to him, 'If you ever have something that would be good for me, give me a holler — I'd love to come and play.' But I told him I wanted to act and not play myself. Brad said he was going to think of something. People [in show business] say that a lot and don't always follow through. A few days later, Brad had a role for me and here I am!
What can you tell us about Dr. Buckingham?
He's a charming guy, who comes to town and impresses a lot of people and makes them smile. He looks like a successful man, but there's something [mysterious] about him. He wants to make amends with his daughter Zoe. Everything he says and does is because he loves his daughter more than anything, which is something I can identify with!
And you'll be crossing paths with Dr. Taylor Hayes?
Yes. I'd never met her before, but I realized after being on set with her that Hunter is the ultimate soap vet. She's so gifted at what she does. She's amazing, the best.
Soaps tape quickly these days. How have you found the pace?
Daytime is its own beast. I challenge naysayers to compete against actors who've been on soap operas who look at material the night before and then again, the next day before turning out performances as if they've had the material for weeks or months. I'm keeping up. Have I had a bit of agita about it? Yes, but I love it! I love having my mind be active and challenged. People love to put other people in a box. There are people who know I've performed on Broadway and that I've acted in many series. Others will say, 'Oh, yeah, you're that guy from Whose Line Is It Anyway and The Price is Right!' I'll say, 'No, I host Let's Make a Deal and I'm an actor.' I think if the fans stick with me through this arc, they're going to see some really cool stuff happen.
You succeeded Billy Porter in Kinky Boots on Broadway. What was it like being in a show that's not only entertaining, but has the power to open people's minds?
You said it. It's art and social activism. Playing Lola [a drag queen, who makes high-heeled boots] has been one of the high points of my life. Taking over for Billy was a dream and performing the songs of Cyndi Lauper and saying Harvey [Fierstein]'s words made me happy. I've never felt more like a man than when I wore [Lola's] wig and dress. It was so empowering and felt like I was doing good in the world.

What reactions did you receive from audience members?
I'd see the guys in the audience whom I could pick out a mile away. They'd have their minds made up and I'd see their arc with the show. They'd sit with crossed arms, hating each minute of it at first, but by the time the intermission came their arms were unfolded and they'd be on the edge of their seats. At the end of the show, they were the first people up, applauding. That was a truly transformative experience. The only other time I felt so great was when I did Hamilton.
In 2003 you won a Primetime Emmy for Outstanding Individual Performance in a Variety or Music Program for Whose Line. Other nominees included Martin Short and the late Robin Williams. What did it mean to win?
That I'd arrived. I'd gone from being a little boy in Tangelo Park, Florida watching Martin Short on SCTV, thinking he was so amazing, and worshipping at the 'church' of Robin Williams, wondering how someone's mind could work that fast. To be nominated with them and to have won meant that I was good at something. Many people go through life not knowing what they're good it.
Your grandmother is a big fan of The Young and the Restless and you appeared on the show along with her in 2004 for Mother's Day.
Yes. We are both huge fans of the show. She could not be more excited for me to debut on B&B. She's already asking me if I can give her inside tips on what's going to happen. I've said, 'Momma, you know I can't. You're going to have to tune in like everybody else.'
Performers on Whose Line can take a suggestion from the audience and turn it into a production that looks like it's been in development for weeks! How do you do that?
I was raised as an only child with not a lot of money, but a lot of imagination. I read everything I could get my hands on as I created my own world. That's what improvisation lets you do. I happened to be one of those kids who loves everything about pop culture, science fiction, Shakespeare, and Tennessee Williams – everything was crammed into my head. When an improv suggestion comes out, I say, 'Oh, I know what to do. This character lives in my head.' I can't solve any incredible high-level math problems or save a life, but I can create a world on stage.
View this post on Instagram
Which celebrity guests on Whose Line have stood out in your memory?
One of my most cherished memories was Robin Williams asking me just before a scene started, 'Do you have me?' I said, 'Of course, I have your back!' He said he watched the show and he loved me. That's something I can take to my grave. That makes me ridiculously happy. Whoopi Goldberg stands out in every way. She's fearless. She doesn't know the meaning of 'I can't do it.' We're in our sixth season and we're coming back in February.
What else do you have coming up?
We go back into production on the next season of Let's Make a Deal in May. I'm working on my autobiography and we're planning on turning that into a one-man show for Broadway. My ex-wife/best friend/production partner [Mandie Taketa] and I have three projects in development right now with production companies and networks. I've got a follow up to my Grammy nominated album [A Change Is Gonna Come] is going to come out in the second quarter of next year. We're always moving forward.
Rumor has B&B offered you for payment for your appearances on the show either union scale or the contents of what's being curtain No. 2.
[Laughs] Well, obviously, I guess I took scale because I'm on the show!
Seriously, how does it feel to have this new gig?
I am so thrilled. I'm such a fixture in daytime and now, you can't get rid of me. I'm very honored and I hope that the fans of Bold and the Beautiful will follow me on the ride. It's a big deal to be on the most-watched drama in the world.
Bold and the Beautiful, Weekdays, CBS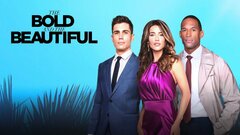 Powered by