Dan Fogler Teases His New 'Walking Dead' Character & 'Fantastic Beasts 2' (VIDEO)
If you watched this past Sunday's The Walking Dead, you may have recognized a familiar face among a new group of survivors found by now-much-older Judith (Cailey Fleming) in the woods, after the time jump.
Actor Dan Fogler — known for his time on The Goldbergs and for starring in the Fantastic Beasts movie series as No-Maj Jacob Kowalski — is playing Luke, a part of a special group of people.
When he chatted with TV Insider's Emily Aslanian last month at 2018 New York Comic Con, he teased, "If you know [the series], it is a signal of very cool stuff to come."
In addition, he also spoke about his dystopian comic book series Brooklyn Gladiator, and what life has been like since booking Fantastic Beasts. "I feel like I won the lottery," he admits. Between starring in one of cable's biggest TV dramas and an enormous movie franchise, we have a feeling we'll be seeing a lot more of this guy.
Check out the full interview below.
The Walking Dead, Sundays, 9/8c, AMC
Fantastic Beasts 2: The Crimes of Grindelwald hits theaters on November 16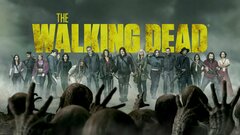 Powered by