What the Hell Is Happening in This 'Riverdale' Flashback Scene?! (VIDEO)
Oh no. We knew the parents on Riverdale were hiding something, but we had no idea it was that they were massive geeks!
All season long, Fred (Luke Perry), Alice (Madchen Amick), Hermoine (Marisol Nichols), and the rest of the adults have been huddling in hushed, tense pow-wows like they had all secretly killed Freddy Kreuger when they were teens. But really, it's just been about some role-playing game called Gryphons & Gargoyles that brought them all sorts of trouble in high school and has reared its weird head again amongst the town's disposable supporting characters (R.I.P Dilton and guy who threw himself out the window).
See Also
The cast portrays their on-screen parents' teen selves.
Whatever went down back in 1992 — aside from their Holy Grail attire and awful sing lyrics — it was enough to scare the parents into acting like parents for a hot minute and try to get their kids to not play the game.
Tonight, we finally get the whole story in the season's fabulous and wisely-hyped flashback episode, which sees the show's younger cast playing the adolescent versions of their on-screen folks. And it is delicious. KJ Apa (Archie) channels Luke Perry in an almost unnatural manner, Lili Reinhart (Betty) gives us an Amick that is more than we deserve and my god, Cole Sprouse's take on Skeet Ulrich is iconic.
Revealing anything more than what is already out there would be as criminal as Penelope Blossom's brothel, so suffice it to say that the Breakfast Club-inspired hour delivers so much more than camp and character swapping.
To hold you over until "The Midnight Club" airs, we present to you both a portion of the pre-credits intro of the parents Saturday-morning detention check-in (with former Brat Packer Anthony Michael Hall's principal).
Plus, we have the musical proof that mixing myth-based board games, synth pop and mood-altering substances results in some cringe-worthy memories we're sure the parents want to forget altogether. Enjoy!
Riverdale, Wednesdays, 8/7c, The CW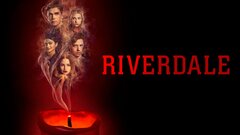 Powered by