'Power' Exclusive Clip: Vince Catches Tommy in a Lie (VIDEO)
What Tommy (Joseph Sikora) thought was going to be a peaceful encounter, turns dangerous in a blink of an eye.
In this exclusive clip from Power's all-new episode, Vince (Joe Perrino) confesses he's been thinking about the shootout and "it just doesn't add up." He's referring to the fake drive-by, arranged by orchestrated by Kanan, to scare the Italians. Instead, the hit men used real bullets and injured some of the mobsters.
"I think it was this guy Dre," Tommy says.
"You lied to me about it," Vince insists.
Tommy looks to Tony (William Sadler) for guidance and the next thing Tommy knows he's on his knees with a gun pointed at him.
Watch the clip below:
Power, Sundays, 8/7c, Starz
The episode is also available for download and streaming on the STARZ app and STARZ ON DEMAND starting at 12:01AM ET.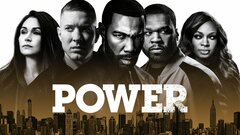 Power
where to stream
Powered by