'This Is Us' Star Susan Kelechi Watson Says Beth Isn't Dying Anytime Soon
Since Season 2 of NBC's hit drama This Is Us signed off in March, fans have been speculating about what's next for the Pearson family.
When the show introduced flash-forward sequences in the latter half of the season focusing on Randall (Sterling K. Brown) and an adult Tess (Iantha Richardson), viewers noticed the absence of a fan favorite — Beth Pearson (Susan Kelechi Watson).
See Also
Sterling K. Brown explains that 'her' moment.
Riding the wave of emotion that was Jack's (Milo Ventimiglia) death, theories about whose death was next began, and Beth was unfortunately at the top of the list. Things only escalated when the finale revealed the show's second flash-forward, where Randall and Tess are talking about an unidentified "her."
Well, Watson is responding to those rumors. The actress spoke about the matter in an interview with GoldDerby. When Watson was asked about Beth's role in the upcoming third season, she took it upon herself to clear the rumors.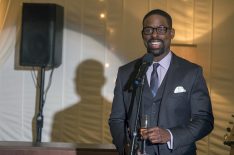 See Also
From Beth's fate to Toby's depression, we have a lot of questions to be answered.
"I'm sure by now, you know I can't say anything. But, yes, Beth will be around. There's no plans to kill Beth," Watson assured fans. "I know this has been a rumor, that possibly Beth dies — she doesn't."
The actress joked that "now when we try to tell people spoilers, they don't believe us," she laughed.
Well, if that isn't enough of a confirmation on Beth's future, then we don't know what is.
Of course, that doesn't dispel the other theory that Beth and Randall break up. But that couldn't happen, right? Since Beth and Randall are the power couple viewers never knew they needed until the show debuted in fall of 2016.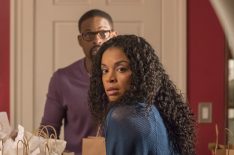 See Also
All of the answers, reactions, and theories from Season 2's final episode.
"I was really grateful that people wanted her to stay around, but also really glad she's not going to die," Watson concluded about her character.
While Watson's remarks clear the air for fans in some respects, there is still plenty to uncover in regards to the mysterious "her" that was referenced in the finale. Hopefully, This Is Us Season 3 presents viewers with some satisfying answers.
This Is Us, Returns for Season 3 Fall 2018, NBC
Powered by