What's On: Escape to 'The Good Karma Hospital,' Eclipse Coverage, 'Preacher'
The Good Karma Hospital (streaming on Acorn TV): Here's one way to freshen the medical drama: relocate the genre to exotic locales, prescribing welcome doses of humor and romance. Having recently beguiled viewers with the Australian dramedy The Heart Guy, Acorn now delights with six episodes of pure escapism in southern India (filmed in Sri Lanka). Amrita Acharia is endearing as an inexperienced doctor fleeing a broken relationship in London, thrown into the deep end at a primitive hospital in rural India. Amanda Redman is sensational as her brusque boss, James Floyd perfectly arrogant as the troubled surgeon she's inevitably drawn to, and Downton Abbey's Phyllis Logan (Mrs. Hughes) provides ample sentiment as a dying patient savoring every last moment in this visually stunning land. The first season of Good Karma is like a great beach read.
Here Comes the (Eclipsed) Sun: TV is going all out to cover the first total solar eclipse since 1979, with major networks and all news networks going full stop during the day, many going live during the afternoon hours as the eclipse traverses the nation. Of special note: cable's Science Channel will also be live during the day, with a Great American Eclipse Special in prime time (9/8c) recapping the event. The special features NASA's WB-57 eclipse project, which observes the eclipse with two fighter jets equipped with infrared cameras and HD video, and the Eclipse Ballooning Project, sending live video to NASA from high altitude balloons in roughly 25 locations.
PBS's flagship science program NOVA will also produce an hourlong special, Eclipse Over America (9/8c, check local listings at pbs.org), described as the series' "most extensive fast-turnaround film to date." NOVA provides context into the history of eclipse science, while following the path of totality with the help of several public TV stations providing footage.
Preacher (9/8c, AMC): Holy crow, by the end of this pivotal episode, you may well wonder if there's any blasphemous line this wildly irreverent fantasy series won't cross this season, as Jesse (Dominic Cooper) continues his desperate quest for a missing God. Now that the preacher with an unholy power has made the acquaintance of an undeniably impressed Herr Starr (Pip Torrens), Jesse gains some unusually high-profile allies in his divine, yet somehow profane, search.
Inside Monday TV: Freeform devotes the entire day to a marathon showing of Dirty Dancing (starting at 7 am/6c) on the occasion of its 30th anniversary. Watch it enough times, and it might exorcise the memory of ABC's misbegotten remake this year. … A crisis dramatized fictionally last week on NBC's The Night Shift is shown for real on CBS's newsmagazine CBSN: On Assignment (10/9c), which investigates the rise of cyber-attacks on hospitals. … The residents of NBC's Midnight, Texas (10/9c) may soon realize that newcomer Manfred (Francois Arnaud) isn't the hero they thought he was once his past is exposed, thanks to the arrival of the mysterious Hightower.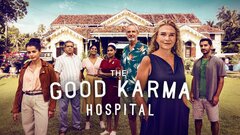 Powered by