5 '80s and '90s TV Reboots We'd Actually Like to See
Everyone has one: A weird—most likely canceled before its time—series that you really love, but critics (and your friends) use as a punchline.
Well, have you ever considered that your very special show may just have been too ahead of its time? In honor of GLOW's return to television (albeit in a sitcom about the 1980s cult wrestling series), here are five more out-of-this-world shows (hey, remember Out of This World?) from the '80s and '90s with present-day potential.
Parker Lewis Can't Lose (Fox, 1990-1993)
This Ferris Bueller's Day Off rip-off about the adventures of über-confident high school student Parker Lewis (Corin Nemic) could get a little trippy, with its awkward camera angles and quick cuts. Add in the fake smoke from which high school giant Kubiac would occasionally emerge (holding an ever-present paper bag labeled "Larry's Lunch"), and Parker Lewis made the more conventional Beverly Hills 90210 (that other teen show that premiered in 1990) look like Pee-wee's Playhouse.

Action! (Fox, 1999)
This failed series about a movie producer (Jay Mohr) recovering his career after a failed film may have been too meta (and Hollywood) 18 years ago. But its honesty (Illeana Douglas plays a former child star-turned-drug addict-cum-prostitute) and kink would fit in perfectly with today's streaming cable comedies. (Fun facts: Keanu Reeves and Salma Hayek played themselves on the show, and future SNL vet Will Forte (The Last Man on Earth) was one of the writers.)

Herman's Head (Fox, 1991-1993)
Just two years ago, Disney had a critical and commercial hit with the movie Inside Out, which envisioned the opposite feelings—Joy, Fear, Anger, Disgust and Sadness—living in a little girl's brain. So why not give Herman's Head—which had essentially the same plot, except the head belonged to a male yuppie (William Ragsdale), and the warring emotions were Intellect, Sensitive, Anxiety and Lust—a second try?

Cop Rock (ABC, 1990)
A police procedural in which the characters dance and sing?!? On the one hand, Stephen Bochco's musical could be the worst TV show of all time. On the other, it could be a revolutionary idea that was poorly executed (and received) because it was so new. But thanks to shows like Glee and Crazy Ex-Girlfriend, producers and viewers are more open to a side of music with their sitcoms and dramas.

Throb (syndication, 1986-1989)
Besides a great title, this forgotten sitcom about a single thirtysomething woman who gets a job at a New Wave radio station featured lots of sex in the city. And, two decades later, it could have lots of nudity, as well!

Do you have any favorite forgotten or ahead-of-their-time shows that would work as reboots today? Let us know in the comments below!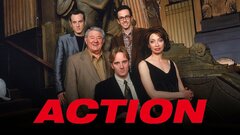 Action
where to stream
Powered by
Powered by